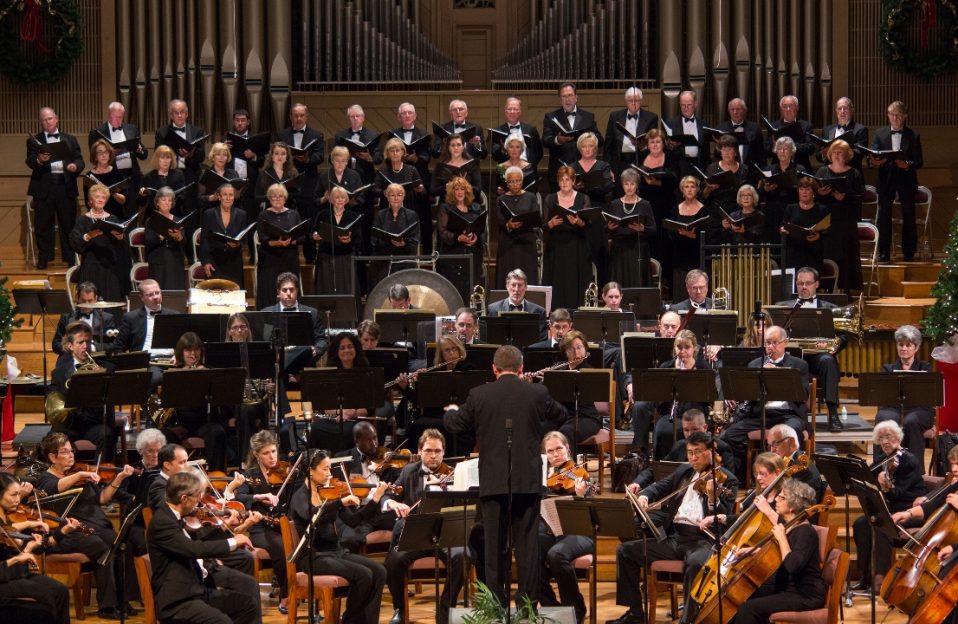 AUDITIONS NOW OPEN

Contact Gayle Lang, Manager, at [email protected]

The Hilton Head Symphony Orchestra Chorus is an auditioned chorus of professional and professionally-trained vocalists from around the Lowcountry who are dedicated to performing classical, opera, and contemporary choral literature with the Hilton Head Symphony Orchestra. These singers have a wealth of experience, having performed extensively as soloists in opera and oratorio and as vocalists with major symphony orchestra choruses and choral societies all across the United States and abroad.
Michael Schwartzkopf serves as Chorus Master for the 2019-2020 Season, accompanied by HHSO's Lauren Stuligross. The HHSOC is managed by Gayle Lang. Now entering their fourteenth season, this highly acclaimed ensemble continues to expand their repertoire and their love of music, while striving to set the highest standard for performance and professionalism.
Formed in 2006 by the HHSO, under the direction of Mary Woodmansee Green, the HHSOC debuted with Mahler's Second Symphony with performances in Hilton Head and the Lucas Theatre in Savannah. Since then, the HHSOC has performed a wide variety of works including Orff's Carmina Burana; Tchaikovsky's 1812 Overture; Mozart's Grand Mass in G minor; Holst's The Planets; opera selections from Aida, Die Fledermaus, A Midsummer Night's Dream; Falstaff and Macbeth; as well other works by Bach, Berlioz,Verdi, Copland, Handel and Mendelssohn.
The chorus is skilled in a diverse range of repertoire from the opera and Broadway stages to classical works of the great masters and are highly praised for their rich and expressive sound. Several years ago, the chorus also displayed their lighter side and flair for fun with a Flash Mob performance at Shelter Cove!
Under the baton of Maestro John Morris Russell since 2012, the HHSOC is featured in both the HHSO holiday and spring concerts, having performed Vivaldi's Gloria, selections from Handel's Messiah, Poulenc's Gloria, Brahms's A German Requiem, Silvestri's The Polar Express, and an all-Gilbert and Sullivan evening featuring selections from The Mikado, Pirates of Penzance, H.M.S. Pinafore and a semi-staged version of Trial by Jury- all to rave reviews. As a grand finale to the 2019-2020 season, the HHSOC will perform Mendelssohn's Elijah!
The HHSOC is always delighted to perform favorite traditional holiday pieces as well as more contemporary holiday arrangements by the symphony's own Maestro Russell and Michael Braz, as well as special arrangements by musicians from the Cincinnati Pops. The holiday concerts are particular favorites for the HHSOC and are sell-outs with Hilton Head audiences as well.
The HHSOC is open to all experienced singers who wish to perform with the Hilton Head Symphony Orchestra. Auditions are held throughout the year, and may be scheduled by contacting Gayle Lang, Manager, at [email protected].