Letter From the President – Gail Kaess

As the year 2019 closed on December 31, so also did the illustrious tenure of Mary Briggs as President and CEO of the HHSO. Her twelve years in that position saw the growth of the orchestra into one of our areas leading cultural organizations. The growth included increased subscribers, additional concerts, larger audiences, outstanding youth outreach and the intimate concert venue at SoundWaves. We of the League of the HHSO along with all in the Low Country salute her accomplishments.
There is another accolade we hereby give. It is the personal relationship Mary has nurtured with the League. She was always supportive, available, and most of all genuinely appreciative. This special connection made it possible for volunteer and financial success accomplished with mutual purpose and admiration.
As Mary moves on to new community challenges, we know that her future and the League future will be enhanced by the past experiences we have shared.
We truly treasure the HHSO.
We truly treasure Mary Briggs
BRAVO!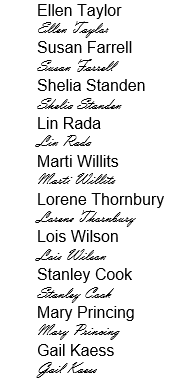 ---

Youth Concerto Competition – Joseph Gimbel, Director

Join us on February 1st at 1:30 in SoundWaves where 10 of the region's top young string players will compete for $5000 in cash prizes, $5000 in scholarships, and a chance to solo with HHSO in 2021!
These incredibly talented musicians, age 13 through 18, were selected by competitive auditions from a field of 45 applicants. Each will perform one movement of a concerto with piano accompaniment.
Many of our past finalists have gone on to study at Curtis, Juilliard, Peabody, and other major conservatories, and several perform with orchestras and chamber music groups throughout the US!
Doors open at 1:00 PM. More information and tickets are $15 and available online, by calling the box office at 843-842-2055, or at the door the day of the event.
---

HILTON HEAD INTERNATIONAL PIANO COMPETITION – BOB KOENIG
Hilton Head International Piano Competition is pleased to present the 20 pianists (ages 13 – 17) who will compete in March 2020. They were selected from a record 110 applicants for the young artist competition. We have 13 males and 7 females representing 8 countries They are in alphabetical order:
Russia: Pyotr Akulov
Canada: Kevin Chen, Joshua Wong, Ray Zhang
United States: Solomon Ge, Catherine Huang, Tyler Kim, Naomi Yamaguchi,
Oscar Paz-Suaznabar, Adrian Romoff, Kasey Shao, Andrew Shi, Katherine Liu, Angeline Ma, Hans-Derek Yu
Japan: Ryunosuke Kishimoto
South Korea: Jinyoung Kweon
China: Ruisi Lao, Hao Rao
Thailand: Ariya Laothitipong
Congratulations to these 20 talented pianists and we look forward to seeing them in Hilton Head in March 2020! Tickets go on sale on Dec. 1 at www.hhipc.org. Please note that the Finals Concerto Competition with the HHSO is on Saturday, March 12, 2020.
An exciting weekend in New York city was enjoyed by a local group of HHIPC fans to attend the outstanding Weill Recital Hall debut of Chaeyoung Park, our 2019 First Prize winner on Sunday, Oct. 27th. The activities included a reception for Chaeyoung at Steinway Hall on Saturday evening and a private tour of the Steinway & Sons manufacturing plant in Astoria, Long Island where we saw what true craftmanship has been producing for over 160 years.
The HHIPC has two upcoming special events planned for the remaining year to showcase the talents of a young pianist and the Rising Stars of the Junior Jazz::
For information on the above events, contact Julie Williams at [email protected] or call 843-842-5880.
---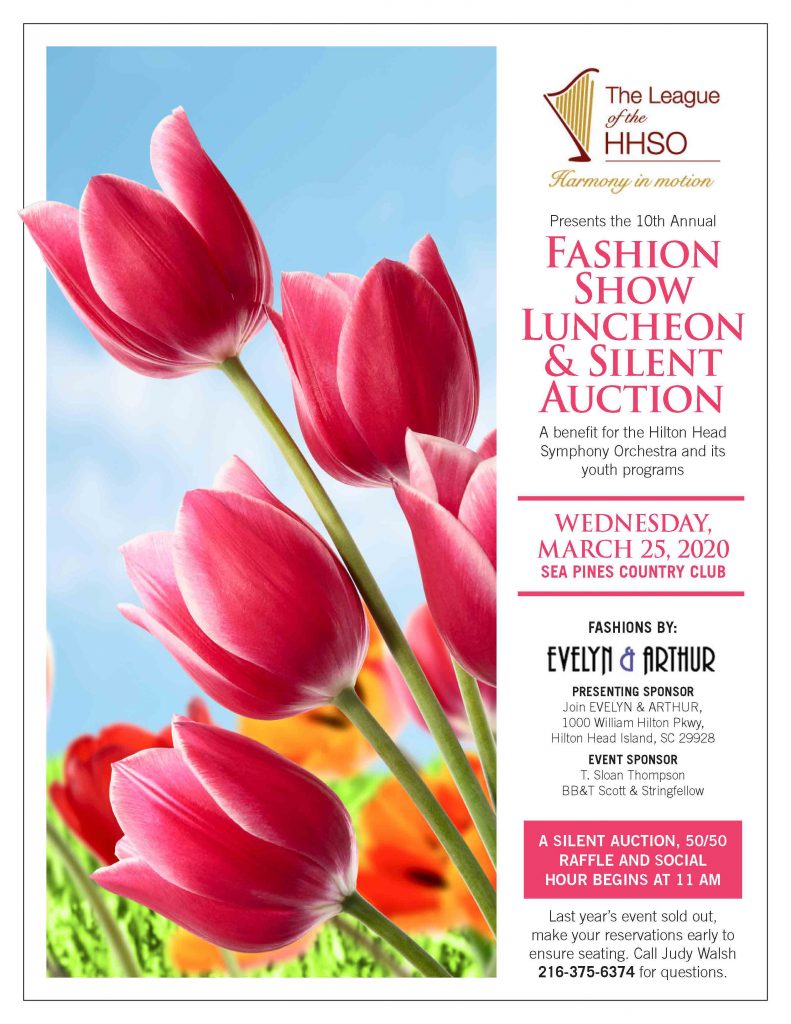 TENTH ANNUAL LEAGUE LUNCHEON/FASHION SHOW – Lisa Marie Temple & Kathie Miller
SPRING LUNCHEON AND FASHION SHOW – LISA MARIE TEMPLE & KATHIE MILLER
Please save the date for the annual Fashion Show/Luncheon Wednesday, March 25 at the Sea Pines Country Club with fashions from EVELYN & ARTHUR. There will be many Silent Auction items. League members are encouraged to get auction donation forms to give to donors from League Board members or by emailing me at [email protected]. Please approach businesses and especially restaurants you frequent and/or know the managers for silent auction items.
The committee is planning to have centerpieces of hydrangeas in silver bowls. We are looking for 12 more plated silver bowls to complete our set. If you find one on a shopping trip, please get it for us. (Don't spend more than $10.)
---
NEW MEMBER RECEPTION – CLAIR CRAVER
Ted and Clair Craver hosted a new member reception in their home in Windmill Harbor on Tuesday, October 15th. Sixteen new Symphony League members attended this gathering. The purpose of this reception was to welcome our new members to the Symphony League, explain the volunteer opportunities for members, and announce the activities that are only available to League members.
Gail Kaess, President of the HHSO League gave the opening remarks, and Linda DeLuca shared the schedule of events at SoundWaves. Candi Hough explained and recapped the Kitchens of Note tour. She also announced the date of the Spring Luncheon and Fashion Show. Lois Hoyt-Berry spoke about the Musicales, and Clair Craver announced the date of the Spring Fling. Stan Cooke rounded out the program by sharing the volunteer opportunities for men.
It was a wonderful opportunity to get to know the new members and help them understand the purpose of the HHSO League.
---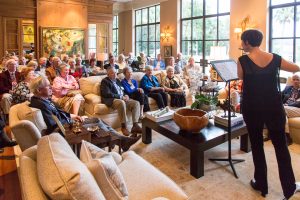 MUSICALES – Lois Hoyt-Berry
We are pleased to announce that the first musicale this year got the season off to a roaring start. The Port Royal Beach Club proved to be very successful as the setting was exquisite. The wonderful view of the ocean gave a beautiful backdrop for our talented artists. Concert master Micah Ganger played violin and Daniel Mumm, his close friend from Charleston, played cello. We hope to start off our next musicale year at this venue. Carol Gyllenhoff headed the buffet committee.
Our second musicale was once again at Candi & Tom Hough's residence in their magnificent home in Spanish Wells, graced with seven spectacular Christmas trees! Best of all were the holiday carols provided by Guillermo Brazon and his six carolers. What a way to set off our holiday spirits! Bobbie Tucker headed the buffet committee.
Our next musicale will see us attending on January 22, at SoundWaves. The concert will be on Wednesday for those who favor football as well as our musicales. This venue gives us a chance to offer every league member the ability to attend. It is a jazz concert which has proven to be the favorite musicale for so many. Pianist Lavon Stevens will bring his two friends, Delbert Felix on the bass & Jimmy Ward on his guitar. We look forward to all their smooth Jazz Standards. Our very capable Phyllis Patterson heads the buffet committee once again.
The February 19th Musicale is also on a Wednesday, since it also occurs during football season. Most exciting of all, this is our first musicale to be held in Palmetto Dunes, hosted by Eileen & Jerry Durkin. Music will be provided by our own Brad Behr with a sneak peek of Michael Braz on piano accompaniment. He is going to introduce us to the versatility of the bassoon – from Bach to Bourdeau, plus South American music of Mockert and Villa-Lobos. A new league member, Geri Ruka, will head the buffet committee.
Then on Sunday, March 7, is another chance for those of you who haven't made reservations to do so since it will be at SoundWaves. We will be entertained by music on the piano, harpsichord, celeste & organ played by Michael Braz. It will be a very intriguing evening of music. Clair Craver, one of our Board members, will head the buffet committee.
And our last musicale of the season, Sunday May 3, is going to be held by Mary and Michael Briggs in their beautiful new home in Hilton Head Plantation. We look forward to hearing Brazilian Samba & tropical music by Jackson & Maggie Evans, a husband/wife, guitarist and vocalist as we enjoy the evening light over the water. At the head of this buffet is our well-known Peggy Ashworth.
And last, but certainly not the least, hats off to Mario Incorvaia who once again has put together all the fabulous music and musicians for another successful musicale year. How he does all that he does is a wonder!
Lois Hoyt-Berry
---
MARK YOUR CALENDARS!
Hilton Head Symphony Under the Stars will be held on Tuesday, April 7 and Wednesday, April 8.
The League's annual Spring Fling will be Wednesday, May 13 at Indigo Hall.
The 2020 Kitchens of Note Tour will be in Port Royal Plantation on Sunday, October 11.
---