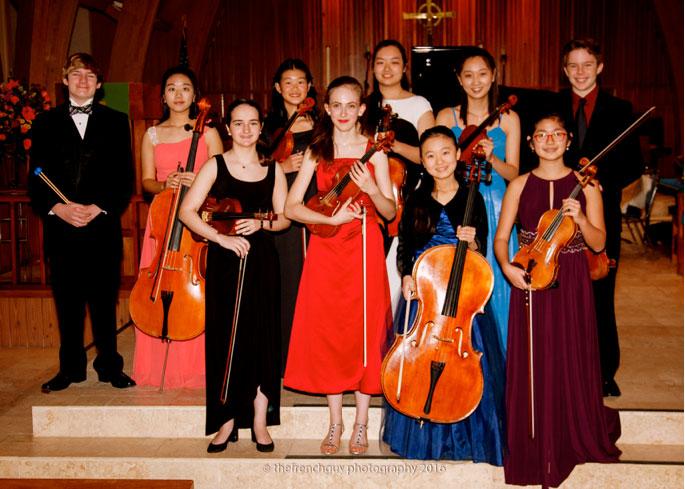 2016 HHSO-YCC Finalists
Who is Eligible
Musicians who play orchestral instruments (excluding piano), age 18 or younger who have not graduated high school are eligible to participate in the competition. Applicants must reside permanently in AL, FL, GA, KY, MS, NC, SC, TN or VA. Previous grand prize winners are not eligible.
Audition Piece
Your selection must be a recognized solo (single instrument only, not piano) with orchestral accompaniment (not an arrangement, transcription or student work), even if not properly titled 'concerto,' and it must be a work for which score and parts are currently available. It MUST be a minimum of 6 minutes and a maximum of 15 minutes (longer submissions are acceptable) with the competitor performing the preponderance of the time. The selection may be edited to meet the time limit. The competition reserves the right to require cuts to fit available time for the finals. Failure to meet the minimum time limitation will result in disqualification. The selection you perform when you apply is the selection you will be required to perform in person (with the possible exception of cuts required by the competition), should you be selected as a finalist.
Finals
Up to 10 finalists will be selected by a screening jury from all submitted selections. Applicants will be notified of the selection via email by December 1, 2016. Finalists will perform their selection from memory, for judges and a live audience, in concert, Saturday, February 4, 2017 on Hilton Head Island. Selection of prize winners will be announced at the conclusion of the concert. Finalists are responsible for providing their own accompanist or using one assigned by the competition, at a cost of $150, in accordance with the guidelines described in the registration section. Finalists will receive copies of the judges evaluation forms approximately 2 weeks after the finals. Non finalists may receive summarized comments from the screening jury by submitting an email request no later than December 10, 2016.
Prizes
First Prize:*
$ 1200 cash
$ 500 scholarship to the Philadelphia International Music Festival
A solo performance with the Hilton Head Symphony Orchestra
Second Prize*:
$ 700 cash
$ 400 scholarship to the Philadelphia International Music Festival
A possible solo recital weekend on Hilton Head Island
Third Prize*:
$ 500 cash
$ 300 scholarship to the Philadelphia International Music Festival
A possible solo recital weekend on Hilton Head Island
All Other Finalists
$200 cash and $200 scholarship to the Philadelphia International Music Festival
* Any or all of the prizes will be awarded at the discretion of the judges.
Submissions
We prefer that, whenever possible, you submit application package materials to us electronically as email attachments to competition@gimbelassociates.com. Any materials which will be mailed to us should be sent to:
Joseph Gimbel,
Competition Director, HHSO Youth Concerto Competition c/o
Hilton Head Symphony Orchestra
P.O. Box 5757
Hilton Head Island, SC 29938
Please use a US mail service that does NOT require a signature confirmation.
The deadline for electronic submissions and postmark date for mailed materials is October 31, 2016. Earlier submission is highly recommended, since no extensions will be granted. We will confirm receipt of application materials by email, within 24 hours of receipt.
Additional Information
If you have questions or need additional information, please contact Mr. Joseph Gimbel at competition@gimbelassociates.com