President's Remarks – Mary Princing
HAPPY NEW YEAR
As we ring in the new year, it is appropriate to reflect on the many accomplishments of the League since September, 2017.
On the last Sunday in September, a sold-out happy crowd insured the success of the League's 5th Annual Kitchens of Note tour of six beautiful Moss Creek kitchens featuring tasty treats from six of the area's favorite restaurants.
Three Sunday evening Musicales in October, November and December garnered capacity crowds. Guests enjoyed exceptional musical programs ranging from classical to jazz and holiday favorites, superb hors d'oeuvres and sweets held in three of the islands most beautiful homes.
League members volunteered their services at the Fall Symphony Under The Stars at Palmetto Bluff and at Concours d' Elegance at Port Royal. Both were major successes.
League volunteers organized, hosted and provided delicious delicacies for three Post Concert Receptions following the Monday evening orchestra concerts.
At various events, dedicated League members sold cookbooks, beautifully wrapped for holiday gift giving.
As we look forward to 2018, our board and committee members are hard at work planning for the Spring Luncheon, Fashion Show and Silent Auction to be held on Wednesday, March 21, 2018 at the newly renovated Sea Pines Country Club.
League volunteers will be needed to help with the Youth Concerto Competition on Saturday, February 3, 2018 and at the brand new and exciting BRAVO Piano Festival, March 8 – 12, 2018. Please contact Carol Gyllenhoff at 843-671-6758 or gyllenhoff@hargray.com if you are interesting in helping with either event.
The 2018 Kitchens of Note Tour committee is organizing and will begin its planning in January for another successful Fall event, this year to be held at Belfair.
We look forward to three more wonderful Sunday evening Musicales, six Post Concert Receptions and the Spring Symphony Under the Stars.
We are so grateful to our many members and active volunteers who willingly give of their time and talent to benefit our wonderful Hilton Head Symphony Orchestra and its youth programs. We will celebrate all of you at our Spring Fling on May 2, at Indigo Hall.
Best wishes for a happy and productive new year.
---
Mid-Winter Musicales Update – Linda De Luca and Nancy Hudak, Co-Chairs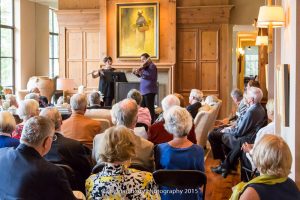 The response to the 2017 Musicale invitation has been spectacular. Nearly all of the Musicales are completely sold out. The October Musicale, at the perfect-for-sunset home of Mike and Sue Harter, featured the violin excellence of Sam Parrini accompanied by his father, Fabio. Terry Hicks captained the bountiful buffet.
Cameron and the Funk Dumplins provided Charleston Jazz and much fun in the spacious home of Sharon Miller. Suzanne Macdonald captained that elegant buffet in November.
With a backdrop of beautiful Christmas décor, Emily Grundstad, vocalist, and Jared Hall, pianist, offered a joyful program of Christmas music in the gracious home of Ray and Linda Moloney. The Yuletide buffet was arranged by Barbara Wolf.
Rescheduled to January 2018 due to Hurricane Matthew, the eagerly awaited DANCE OF THE GREEN DEVIL will be played by cellist Amy Guto, accompanied by pianist Chee-Hang See. In addition, the program will also includes music by Tchaikovsky, Bach, Franados, and Davidow. Stan and Judy Bluestone will host this January Musicale in their Ribaut Island home and Martha Mewbourne will arrange for the buffet.
A Musicale Valentine (February) will be the program of HHSO violinists Gerome Stewart and Kevin Chaney in the Spanish Pointe home of Robert and Elizabeth Hancock. The music will lead us through musical time from early classical parlor music to twentieth century silver screen gems. Ginger Caporal is the buffet captain for this event.
The final Musicale scheduled in April will be hosted by Mike and Mary Briggs in their Berkeley Hall home. Clarinetist Yi Sak Kim, HHSO Youth Concerto Competition finalist, will play some of the most beloved excerpts from the clarinet concerto repertoire: Mozart, Spohr & Francaix. Sheila Standen heads this buffet committee.
The Musicales are truly a glorious program arranged by Mario Incorvaia in lovely homes, generously shared with bountiful buffets arranged by willing and hard-working League volunteers—we thank you all!!
---
You don't want to miss this – Spring Luncheon & Fashion Show – Lisa Marie Temple, Chair
The League of The Hilton Head Symphony Orchestra is excited to be holding an event you surely do not want to miss! On March 21, 2018, the league will be holding its 8th annual premier Spring/Luncheon Fashion Show at the newly renovated and ever popular Sea Pines Country Club Location. The chef of Sea Pines is personally creating a delectable plated lunch for the event to include a salad, chicken dish with sides, dessert, iced tea and coffee. The ticket cost is $45.00 per person.
There will be a lively social hour prior to the luncheon, featuring a cash bar, 50/50 Raffle and time to peruse the fabulous Silent Auction Items. Some of this year's auction items will include wonderful restaurant gift certificates, boutique items, spa packages, tickets for events and special jewelry items along with several themed gift baskets. The new Auction Bid Sheet will also feature a "Buy it Now" price for the first time, along with a new and more efficient check out procedure. Cash, checks and credit cards will be accepted.
Sandra Ossie, the owner of "So Sandra Boutique" will emcee the fashion show with unique outfits and accessories from her popular new boutique. "So Sandra", located in The Park Plaza Center, provides elegant, affordable fashions that Sandra has personally selected from exclusive Fashion Shows while attending Dallas and Palm Beach Markets.
There's nothing better than lunch, cocktails and shopping with your friends. Look for your invitation to be mailed out February 1, 2018. Book your reservation early as this popular event is always a sellout.
Thank you in advance for your generous support of The Hilton Head Symphony orchestra and its Youth Programs.
---
BRAVO PIANO! Festival – Bob Koenig, Chair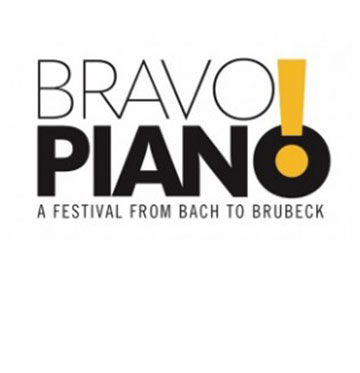 The HHIPC Committee is very grateful to Mary Princing and the League Executive Committee for their gift to the BRAVO PIANO! Festival. The financial gift will be directed to underwrite Elliot Wuu's performance. Our thanks to the League for being among those fans of the piano who have pledged their financial support of the Festival. Your support is both priceless and appreciated.
Do You Know this about our Bravo Piano! Festival performers?
– Pianist Charlie Albright, a master of improvisation and composition, will compose and play the Hilton Head Sonata #1 based on four-notes suggested by the audience in the first-half of his program at All Saints Episcopal Church on Saturday, March 10 at 2 pm. Charlie was a prize winner at the 2007 HHIPC.
– Fei-Fei Dong was a finalist in 2013 Cliburn Competition and was featured in the documentary film In addition to her career as a solo performer, Fei-Fei is a member of the Aletheia Piano Trio and it is in this capacity that she will perform with members of the HHSO in a chamber music program at All Saints Episcopal Church on Saturday, March 10 at 7:30 pm.
– Ran Dank and wife Soyeon Kate Lee have the distinction of appearing at our Finale Concert on Monday, March 12 at 8 pm with not one, but two Steinway grand pianos from which they will play the Mozart Concerto for Two Pianos. Ran and Soyeon frequently perform together and they are both on the faculty at the University of Cincinnati Conservatory of Music. Ran was the winner of the 2008 HHIPC.
– Keller Coker, our "Jazz Ambassador" will present a lecture at the Jazz Corner on Friday, March 9 at 2 pm. Dr. Keller is a trombone player, composer and arranger. He has performed with The Temptations, the Four Tops and Smokey Robinson. He is a Dean at The New School for Jazz and Contemporary Music in NYC.
– At just 18, Elliot Wuu is our youngest performer but his accomplishments belie his young age. A prize winner in the 2017 National Young Arts Competition, the 2015 HHIPC, the 2015 Cleveland International Competition for Young Artists, and he was recently named a 2018 Gilmore Young Artist. Elliot is currently at The Julliard School studying piano performance under a full scholarship and will perform for us on Friday, March 9 at All Saints Episcopal Church at 7:30 pm.
– Steven Lin debuted with the New York Philharmonic at just 13. 2012 was a big year for Steven winning prizes at the William Kapell International Competition and the HHIPC. He competed in the 2013 Cliburn Competition and was featured in the documentary "" Steven will open the Festival with a recital at the Westin Hilton Head Island Resort on Thursday, March 8 at 7:30 pm. When not making music, Steven describes himself as an "NBA basketball fanatic."
– Christian Sands – a Mack Avenue recording artist, Steinway artist, a five-time Grammy nominee, and finalist for the 2015 Cole Porter Jazz Fellowship Award, is an emerging jazz force. Christian says, "My music is about teaching the way of jazz and keeping it alive." He was enrolled in music classes at age 4 and wrote his first composition at age 5. Christian's performance on Sunday, March 11 at 7:30 at the Westin marks his first visit to Hilton Head Island
– Jon Kimura Parker is no stranger to Hilton Head audiences, opening the 2015 season of the HHSO with an electrifying performance of Gershwin's Rhapsody in Blue. He returns to our Festival to perform an equally jazzy piece, Gershwin's Concerto in F on Monday, March 12 at First Presbyterian Church with the HHSO. Parker, while not concertizing, is Professor of Piano at The Shepard School of Music at Rice University
The BravoPiano! Festival will also include two school outreach performances at The Seahawk Cultural Center. Both Fei-Fei Dong and Steven Lin will perform on Friday, March 9th and Christian Sands will play for student audiences on Monday, March 12th. Funds from the Gulfstream Corp. grant will be directed to cover expenses associated with this program.
---
"Kitchens of Note" Tour – Judith Tyler, Chair
MARK THE DATE! – September 30, 2018
The 6th annual "Kitchens of Note" Tour will occur on Sunday, September 30, 2018 from noon to 4 pm at Belfair. Tickets will be $45. Look for more information in our Spring Newsletter. If you have any questions, call or email Judith Tyler at 843-815-6350 or JudithTyler@hargray.com.
---
The Symphony is on the move! Mary Briggs, President HHSO
A New Space … 7 Lagoon Road
The orchestra is excited about the opportunities that are open to us with our new space in the Coligny area.  Work will begin on the outside of the building by the beginning of the new  year and up fitting of our offices and performance area will hopefully begin by the end of February. We hope to be in the new space by early summer.  Our plans for the space include chamber orchestra concerts, small chamber ensemble performances, small jazz or cabaret concerts, etc.  In the future, we are hoping to hold the early rounds of the international piano competition at this location, and other performing arts organizations will be invited to use the space.  Lean Ensemble Theater plans to hold one of their plays at this location each season.  The space is open so that the seating configuration can be flexible.  Coming soon, we will be holding a Facebook campaign to name the space and then will invite people to guess the selected name for a prize to be announced at Symphony Under the Stars.  Stay tuned…
Are you familiar with SOVA?
The Southeastern Orchestra Volunteer Association (SOVA) is a unique networking and support organization for symphony orchestra volunteer groups. Our own Stan Cooke currently serves on the Board of Directors as the Chair of Strategic Planning.
The purpose of SOVA is to provide a platform for the exchange of ideas and resources for symphony volunteer organizations across the southeast. Working with other Symphony Leagues such as our own gives us the means to compare ideas for how we can better support the HHSO. SOVA is a regional group where the officers, Directors and Chairpersons gather periodically throughout the year. Several meetings and round-table discussions are held annually. League member organizations range in age from 21 (Hilton Head) to 67 years in operation. The average membership in these leagues is 113 (HHSO League is over 300 members) Check out what SOVA is all about by visiting their website at sovaonline.org.
Did you know…
Facts and figures regarding our beloved organization:
– Mary Princing, our 2016-2018 League President, is the 9th President to serve over the history of this organization.
– The League Board of Directors currently numbers twenty-five, including four ex-officio members.
– The League President is also a member of the Hilton Head Symphony Orchestra Board of Directors.
– Our League symbol, the harp, is emblematic of our endowment to support the HHSO Principal Harp Chair. Because of the League's continued volunteer and financial support of HHSO and its Youth activities, all our League members feel honored to have been named Season Sponsor of the concerts the past few years.
– Musicales and Spring Fling are reserved for the nearly 400 League members.
– Membership totals approximately 379.
– Members represent 21 different neighborhoods both on and off the Island.
– The League is 21 years old in 2018
– League contributions to the HHSO have exceeded $300,000 over the past 5 years!
---
Overtures and Encores – HHSO Cookbook – Toy Mergler
Sales of our wonderful cookbook continue to delight both purchaser and recipient alike. These books were beautifully wrapped for the holiday season and sold at many of the HHSO functions throughout the fourth quarter. Here is another scrumptious recipe to tantalize your taste buds.
Hot Onion Dip (page 43)
4 sweet onions, chopped
3 8 oz. packages of cream cheese, softened
2 c. Parmesan cheese
¼ c. mayonnaise
Stir together onions, cream cheese, Parmesan cheese and mayonnaise. Bake at 425 degrees for about 15 minutes until golden brown. Serve with vegetable sticks and assorted crackers. Yield: 10 servings.