SYMPHONY UNDER THE STARS
April 7 and 8, 2015
Gates Open 6:00 pm     Concert Begins 7:30 pm
007 – The Music of James Bond and Beyond
 Tickets on sale NOVEMBER 3rd
"I'll have a martini, shaken not stirred…"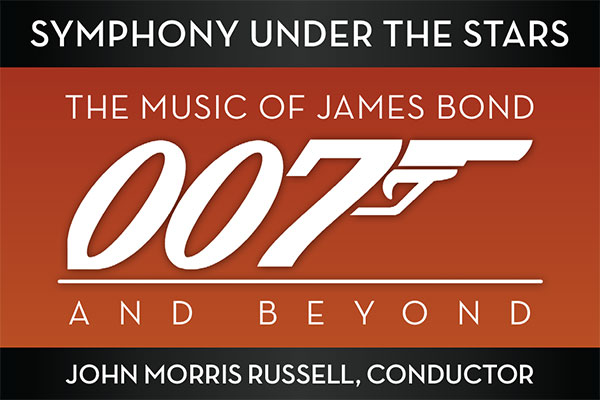 Rev-up your Aston Martin, gather your partners in crime, and prepare for an unforgettable evening of James Bond's greatest hits!
Maestro John Morris Russell and two of today's greatest singers will join the Hilton Head Symphony Orchestra for two musical evenings featuring the original orchestrations from 15 Bond films as well "Spi-fi" classics from TV and the movies. Beneath a festive tent at the Coastal Discovery Museum at Honey Horn Plantation, you will revel to the most memorable songs and music of the BOND era: For Your Eyes Only, From Russia With Love, Goldfinger, the Peter Gunn Theme, and so many more.
"Nobody Does It Better" than Broadway vocalist CAPATHIA JENKINS, who will guide us through some of our favorite Bond treasures.  And we will "Live and Let Die" with renowned Broadway actor RON BOHMER.
Two nights not to be missed, April 7 and 8, 2015. Reservations can be made by calling the box office at 843-842-2055.  Design your costumes, plan your table decorations, decide on your menus, gourmet or picnic, don't forget the refreshments, but if you do the League will be offering wine, beer, soft drinks and water for sale.  Tickets $80/$70. New additional seating options, concert seating allows patrons to come for the concert only or to bring refreshments to be enjoyed at the museum's Pavilion.  Tickets $60/$50 for concert only seating. We've added outside lawn seating at $25.  Bring your lawn chair or blanket.
"Bond and Beyond" was designed by our own JMR for the Cincinnati Pops, and was "sold-out" in Vancouver, Toronto and Calgary, so reserve your tickets now! Put together your table of 10, or purchase your concert seats early as tickets inside the tent will be limited. Lawn seating will be available up to and including the day of the event.