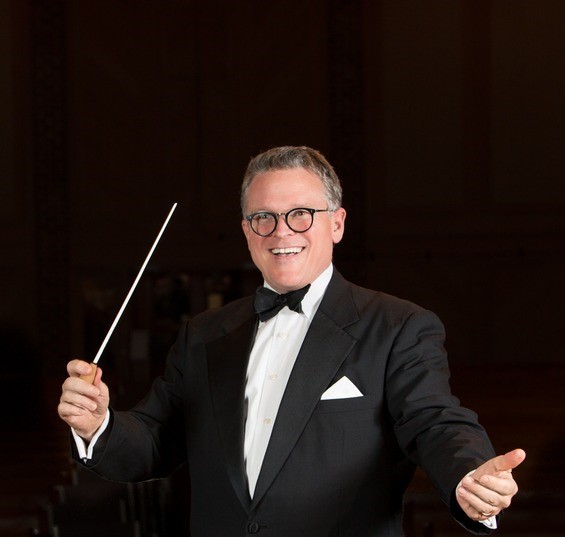 Grammy Nominated Conductor – John Morris Russell
---
Written by Nancy K. Wellard from the Island Packet and Beaufort Gazette
The powerful, energetic, brilliant and charismatic music director and conductor of our Hilton Head Symphony Orchestra, John Morris Russell, was returning to his home in Cincinnati after a long weekend on Hilton Head Island when it happened.
After two soaring performances with the orchestra and piano soloist Eric Zuber, along with rehearsals for a series of upcoming performances on the island, he'd been carefully planning the tightly-scheduled details of his trip back home, right down to the gnat's eyelash.
Standing at the rental car return counter at the airport, Russell was distracted, even annoyed, by the ringing and ringing of his cell phone. Finally, travel documents in place and identification stowed, he was ready to start for home. Seated, he turned to the jam-packed voice mailbox.
He couldn't imagine what he would hear as he began listening.
"Again, and again, the words came in loud and clear," Russell said. "The long journey home was filled with calls and messages from excited friends and family and co-workers, too, congratulating me for having been nominated to receive a Grammy Award for 2020. On the ground, the calls and social media continued as others responded to the news … I thought my phone would explode!"
Later, just to make sure, he checked the official nominee list that was announced in late November by Alicia Keys, a global superstar who has won 15 Grammys.
"Still overwhelmed, I wanted to share what had just happened with everyone in the office after I knew for sure that I actually was a Grammy nominee," he laughed. "I circulated throughout the day handing out lollipops to everyone, as we shared the extraordinary news."
Russell's nomination in the "Best Classical Compendium" category is for the recording "American Originals: 1918," with the famed Cincinnati Pops. It was released under the Pops Fanfare Cincinnati label owned by the Cincinnati Symphony.
You'll note some familiar pieces on the recording when you hear it.
Russell explained his thinking on planning the work and the preparation of the recording. Particularly noteworthy was his familiarity with the history of that time, generally, and with musical history specifically.
Just over 100 years ago, on Nov. 11, 1918, the "war to end all wars" came to an end. That date also marked the beginning of America's cultural awakening — and within the decade following World War I, there came a time when attitudes and ideas about musical styles … jazz, country, blues, rockabilly, ragtime and soul … made them popular across the country.
New and different composers and performers, especially African Americans, who presented new and unfamiliar musical genres were introduced, and they began to reflect the nation's diversity.
According to Franck Mercurio of the Cincinnati Pops, the result was really the launch of American popular music. That kind of new musical beginning continued for the remainder of the century, and truly defined our shared musical ethos.
Some may not know that Russell — known here as a popular and influential music director, conductor, lecturer and musical advocate — also serves as conductor of the Cincinnati Pops Orchestra, as well as principal pops conductor to the Buffalo Philharmonic Orchestra.
"John manages these leadership positions, of the two orchestras, along with his position with our orchestra with intelligence and high energy," said Mary Briggs, HHSO president and CEO. "He also appears as a guest conductor with many well-known orchestras across the country.
"The necessary balance of conducting symphony orchestras along with conducting pops orchestras is an enormous benefit to everyone. He is constantly exposed to new ideas … offering many of his own, and modifying others in order to address our very particular Lowcountry interests, preferences and expectations."
This is Russell's eighth season here, and Briggs said the subscription series has doubled, ticket purchases have increased and he has expanded the visibility of the orchestra in the community and beyond.
"I remember vividly the moment when I decided to make music my life's focus," Russell said.
"My parents had taken me to a concert of the Cleveland Orchestra. The soloist that evening was performing in a Dvorak Symphony No. 8. I was transported at that moment. I wanted to play the trumpet, and I wanted to be surrounded by music. In college, for a series of good reasons, I centered that musical focus toward becoming a conductor."
And now it has led to the red carpet."All about this award has been a kind of series of miracles," Russell said.
"The first miracle was that I was nominated for this award. The second is that I am free on that weekend … probably the only weekend of the year when I am not conducting somewhere.
I'll be looking forward to traveling to the Staples Center, and seeing most of the biggest names in music walking down that red carpet."
The Grammy Awards Premiere Ceremony will be held on Jan. 26 in Los Angeles.
Congratulations, John!