Riding The Wave
Mary Princing
In the midst of this beautiful holiday season and as we look forward to ringing in the new year, it is appropriate to pause and take a moment to reflect on the significant accomplishments of the League since September.
On the last Sunday in September, a sold out, happy crowd enjoyed the beautiful weather as they toured six spectacular kitchens and sampled the fare prepared by six chefs from six fabulous area restaurants. This year's 6th Annual Kitchens of Note tour was held in the beautiful community of Belfair. Our thanks to Judith Tyler, her capable committee and HHSO staff member, Sarah Bergin. All worked tirelessly to make the "K of N" a delicious and stunning success. Over the past six years, this event has generated in excess of $100,000 in revenues to benefit the Orchestra and its Youth Programs.
Moving to SoundWaves, the Orchestra's new headquarters and small performance venue, has been both exciting and challenging. Construction delays required the League to cancel one Post Concert Reception and postpone our first Musicale. Originally scheduled for October 28, 2018 at SoundWaves, Musicale #1 entitled "Chamber Music" has been rescheduled for Wednesday, January 30, 2019 from 5 – 7 pm at SoundWaves. The new date will provide a special opportunity for League members to tour the facility, see the new League office and enjoy a performance and food and drink in the new venue. Because the new space of this venue is larger, we encourage you to invite your friends to join in the fun. Please contact Terry Hicks by phone at 843-415-5336 or by email at Thicks@aol.com for information and reservations.
Two beautiful Musicales were held in November and December. Our thanks to our gracious hosts, sponsors, outstanding performers, Linda DeLuca and her amazing committee, volunteers and our audience members all of whom make Musicales one of the League's most popular and enduring fund raising events.
League members helped organize and provided volunteers for the Fall Symphony Under The Stars at Palmetto Bluff and at Concours d' Elegance at Port Royal Plantation.
League volunteers organized, hosted and provided delicious delicacies for two Post Concert Receptions following the Monday evening Orchestra performances.
As we look forward to 2019, our board and committee members are hard at work planning the Spring Luncheon, Fashion Show and Silent Auction. This popular event will be held on Wednesday, March 20, 2019 at the beautiful Sea Pines Country Club. Start putting together your table of 10 and join us for this exciting event!
League volunteers will help with the Youth Concerto Competition to be held on Saturday, February 2, 2019 and the Hilton Head International Piano Competition scheduled for March 11-18, 2019.
We look forward to three more wonderful Sunday evening Musicales, seven additional Post Concert Receptions and Spring Symphony Under The Stars.
We are ever grateful to our many members and committed volunteers who willingly give of their time and talent to benefit the HHSO and its youth programs. We will celebrate all of you at the League's Spring Fling on May 8, 2019 at Indigo Hall!
Best wishes for a happy and successful new year!
---
Hilton Head International Piano Competition

Bob Koenig
The Hilton Head International Piano Competition has two exciting announcements: First, the 2019 Hilton Head International Piano Competition is pleased to present the 20 pianists who will compete in March 2019. They were selected from 237 applicants. They are in alphabetical order:
Hannah Byun, age 24, Canada                          Jenny Chen, age 24, United States
Junhui Chen, age 24, China                               Jonathan Ferrucci, age 24, Italy/Australia
Anna Han, age 22, United States                       Yun Chih Hsu, age 21, Taiwan
Tzu-Yin Huang, age 29, Taiwan                          Do-Hyun Kim, age 24, South Korea
Daria Kiseleva, age 29, Russia                           Jakub Kuszlik, age 21, Poland
Jocelyn Lai, age 27, Canada                               Hoyel Lee, age 29, South Korea
Priscila Navarro, age 24, Peru                             Arisa Onoda, age 22, Japan
Chaeyoung Park, age 21, South Korea               Wenting Shi, age 26, China
Alexey Sychev, age 30, Russia                            Zitong Wang, age 19, China
Yuchong Wu, age 22, China                                 Suah Ye, age 18, South Korea
Congratulations to these 20 talented pianists and we look forward to seeing them in Hilton Head in March 2019!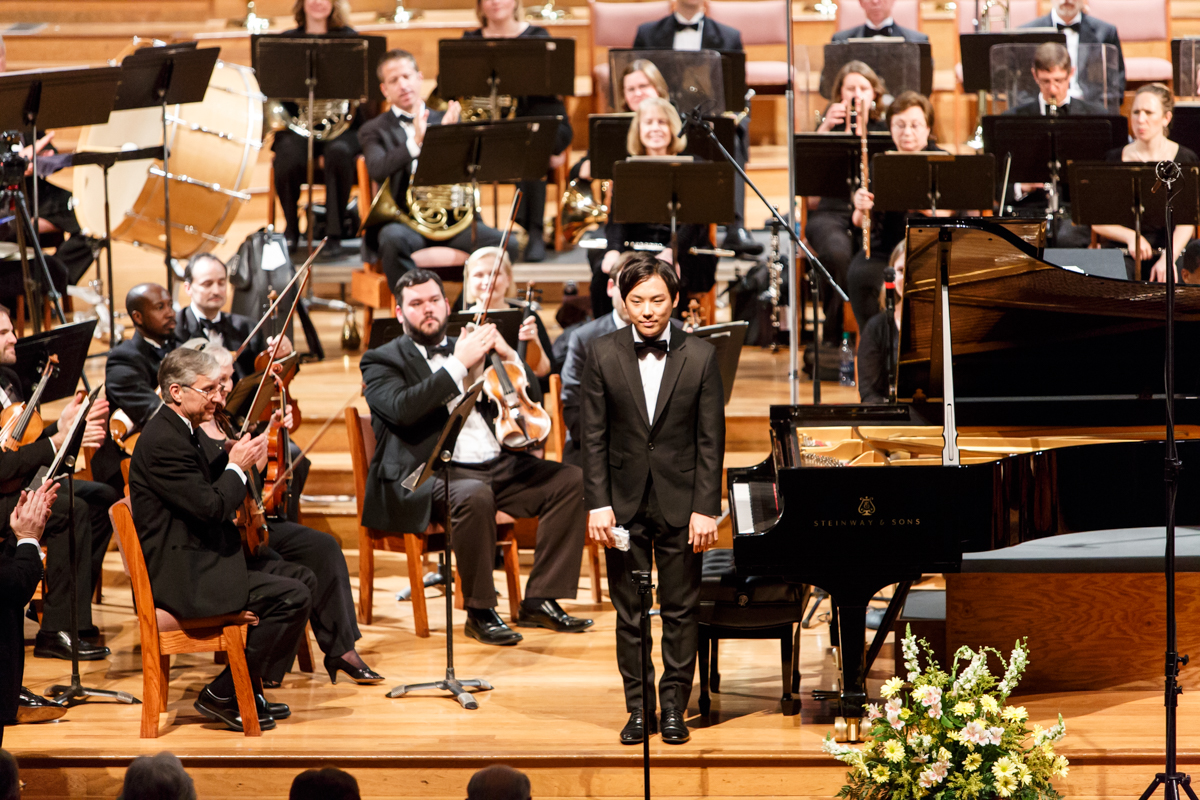 Secondly, a new venue will be used for Rounds I and II for the 2019 Competition on March 11 – 14, the Central Church at 975 William Hilton Parkway (just across the street from the entrance to Long Cove). The church has a spacious sanctuary with theater-style seats, a sloped floor, a balcony, a large projection screen and plenty of parking as shown in the accompanying photos. We are excited to introduce our audiences to this wonderful venue.
The 2019 competition features pianists in the 18 – 30 year old age range which means that there will be a Semifinal Round on Saturday, March 16th at First Presbyterian Church. The 6 Semi-Finalists selected by the panel of 7 judges from the previous 4 days of performances will perform a 50-minute program of their own choice. At the conclusion of the Semifinals, the judges will announce their selection of the 3 finalists to perform a complete concerto with the HHSO conducted by John Morris Russell on Monday, March 18, also at First Presbyterian – this is an evening of music that should not be missed!
Tickets for both the Semifinals and the Finals, as well as Rounds I and II, go on sale on January 2 at the HHSO office at 7 Lagoon Road (843-842-2055) or at www.hhipc.org.
---
Winter Musicale Sundays 2019
Linda DeLuca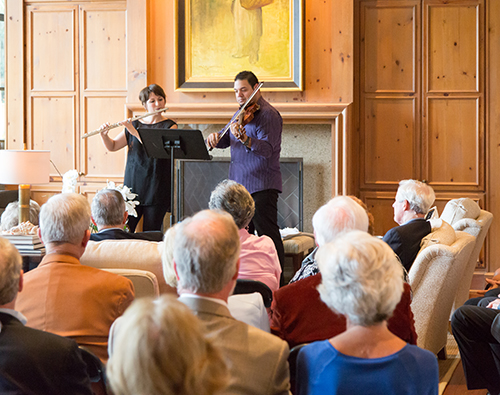 The response to the 2018-2019 Musicale invitation has been spectacular. We are pleased that so many of our League members enjoy attending these intimate events held in beautiful Lowcountry homes with special programs arranged by Mario Incorvaia, the HHSO Vice President for Operations and musician in the HHSO. Mario has once again done a great job of gathering a variety of talented Musicians for this season of Musicales.
New in January, we have a date for our rescheduled October Musicale! It is Wednesday, January 30, 2019 from 5pm to 7pm at SoundWaves (7Lagoon Road). It will be the same program that was scheduled for October with the same musicians. However, rather than our customary Sunday evening, it will be held on Wednesday evening.
If you had a reservation for October, you have a reservation for January 30th. If you would like to attend and did not have a reservation, you may contact Terry Hicks at terryhicks22@gmail.com or 843-707-1723. Also, questions may be directed to Terry. We hope to see you for a great musical experience.
The January program is "Chamber Musaic" where Classical and Jazz worlds collide. Claude Bolling's dynamic Suite for Cello and Jazz Trio highlights this program of chamber music of musical forms from both sound worlds. Cellist Lee Richey, pianist Barbara Lister-Sink, bassist Marc Chesanow, and percussionist Stephen Primatic team up to inaugurate Musicales in our exciting new home, SoundWaves.
The February Musicale will be in the beautiful home of Mary and Mark Williams in Sea Pines. This promises to be a delightful evening with Lowcountry based Junior Jazz All-Stars Hani'el and Eden Mastriani-Levi, presenting an evening of Jazz standards and beloved favorites. Martha Mewbourne heads the buffet committee. This event is currently sold out with a wait list.
In March we will gather at the lovely Wexford home of Lesley Green for "Chamber Roots: Fiddlin'". Violin/fiddle duo HHSO violinist Erica Pisaturo and her husband Scott Moore come all the way from Louisville, Kentucky, brining their unique and fun Americana program mixing traditional Bluegrass tunes with some personal and moving originals of Scott's. Anne Moseley heads the buffet committee. This event is currently sold out with a wait list.
The final Musicale of the season is scheduled for late April in the beautiful Indigo Run home of Chelon Stanzel and Ken Pap. "La Vie En Rose 'Life In Happy Hues'" will allow us to be transported by the atmospheric colors of the harp in this lovely French program that includes La vie en rose, Sous Le Ciel De Paras, Padam Padam, Clair de Lune, Offenbach's Barcarolle and popular selections from Les Miserables, all performed by Savannah harpist Kristin King and her comrade, Savannah Voice Festival's Rebecca Flaherty. Bobbie Tucker heads the buffet committee. This event is currently sold out with a wait list.
The Musicales are truly glorious programs in lovely homes with tantalizing buffets arranged by willing and hard-working League volunteers. Many thanks to everyone who participates in this special activity presented by the League of the Hilton Head Symphony Orchestra.
---
HHSO Youth Concerto Competition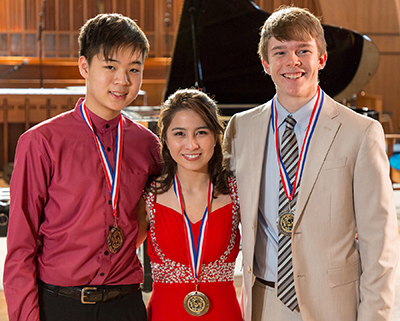 The Hilton Head Symphony Orchestra's Youth Concerto Competition will be held on Saturday, February 2 at 1:30 pm at SoundWaves. Ten instrumentalists, ages 12 – 18, from throughout the Southeastern United States have been selected from a field of 45 applicants. The performers were screened by a panel of professional musicians who selected 10 young musicians to compete in the finals for cash prizes, scholarships and a chance to perform as a soloist with the Hilton Head Symphony Orchestra. 
The competition, designed for youngsters ages 8 – 18 who play a musical instrument other than a piano, is the most prestigious in the region. It has been attracting the most talented young musicians from throughout the southeastern United Sates every year each February. The competition provides a rare opportunity for a young musician to perfect a concerto movement from the professional repertoire, to a level which must far exceed what is required in the studio, because it will be evaluated by professional musicians.
---
SoundBites – Something new!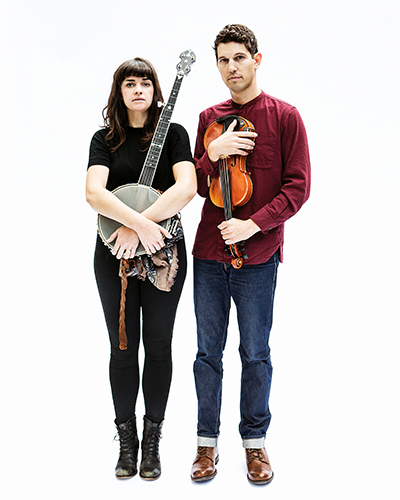 Earlier this year, The Hilton Head Symphony Orchestra announced the expansion of SoundBites, its highly successful new concert program presenting relaxed, audience experience-centered concerts bringing together musicians from both inside and outside the HHSO for a most unique concert concept.
Each SoundBites event is held in a surprisingly non-traditional symphonic venue and consists of short sets of dynamic music from one or more of a variety of musical genres including jazz, Dixieland, rock, classical, and others. Distinguishing itself from expected symphonic concert traditions, each SoundBites concert is set-up as part-concert, part-mixer. The cost of tickets to these events includes delicious food and drink selected for each event to excite the palate and enhance the overall experience of the evening.
The January 19th SoundBites will be held at the Roasting Room, Old Towne Bluffton and will feature a group called The 10 String Symphony (duet) along with 2 HHSO musicians.
---
2019 Post Concert Receptions

Phyllis Paterson & Barbara Wiles
Our Post Concert receptions provide an invitation to socialize with fellow Symphony patrons and Musicians. This season, we have been working with new faces and committee members. Our January 14th 2019 post-concert reception will be hosted by Vickie Baumann of Long Cove Plantation and will be our first post concert reception to be held at SoundWaves. The January 28th reception will be hosted by Karin Haupstein and Indigo Run Plantation. It will be held at 1st Presbyterian Church. Also to be held at 1st Presbyterian Church are the post-concert receptions on Feb. 11 and Feb. 25th. The Feb. 11th event is being hosted by Peggy Ashworth and Betsy Pehrson of the Cypress. The Feb. 25th reception is being hosted by The League Board.  The Symphony Board will host the March 18th reception at 1st Presbyterian and Marti Willits and Garol Gyllenhoff of Sea Pines Plantation will host the April 1st event, also at 1st Presbyterian.
---
Bravo SOVA
Mary Princing
SOVA is an acronym for Southeastern Orchestra Volunteer Association. Its stated mission is
"to serve as a unique networking and support organization for symphony volunteer groups". Its members include representatives from Orchestra Leagues and Guilds from the states of North Carolina, South Carolina and Georgia.
The annual Fall Roundtable is an excellent opportunity for representatives to network, share challenges and successes, explore trends and learn new skills. On October 9 and 10, 2018, Stan Cooke, Gail Kaess and Mary Princing experienced this first hand when they travelled to Greensboro, NC to attend the SOVA Roundtable titled Gateway To Greatness.
It was a busy two days that included an arts crawl in downtown Greensboro and interesting presentations by well qualified speakers on timely topics such as: Building An Engaged Volunteer Organization; Engaging Millennials; Marketing in the Digital World; The Economic, Academic and Social Impact of the Arts on a Community; Creative Communication and The ABCs of Effective Sponsor Solicitation.
The trio came away inspired and thankful for the valuable information gained and the new friends made. Well done Greensboro! Thank you SOVA!
---
Spring Fashion Show
Char Long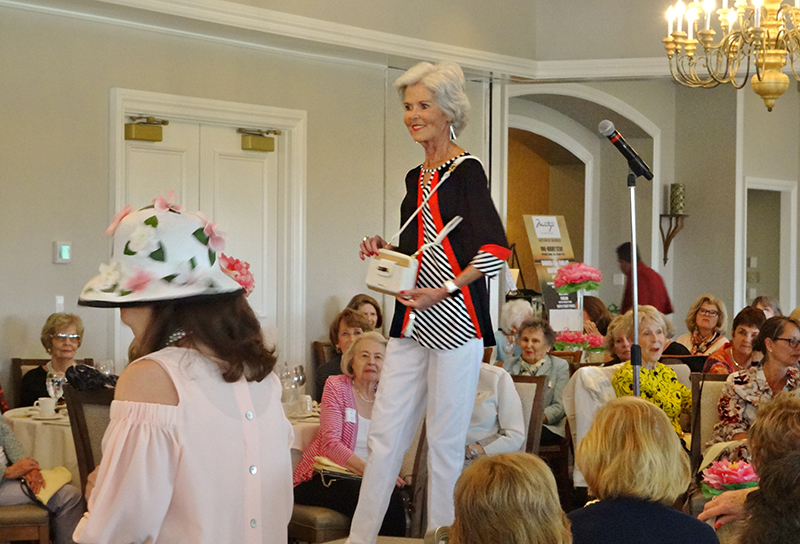 The 9th Annual Fashion Show Luncheon and Silent Auction will be held Wednesday, March 20, 2019 at Sea Pines Country Club.  The very popular Spartina 449 will be presenting their exciting new Spring Apparel line, in addition to their fabulous handbags and jewelry.   There will be gifts for all guests…you won't want to miss it.
There will be a lively social hour prior to the luncheon, featuring a cash bar, 50/50 Raffle and time to peruse the fabulous Silent Auction Items, including three exceptional items for the first time this year. Some of this year's auction items will include wonderful restaurant gift certificates, boutique items, spa packages, tickets for events and special jewelry items along with several themed Gift Baskets. Cash, checks and credit cards will be accepted.
There's nothing better than lunch, cocktails and shopping with your friends. Look for your invitation to be mailed out next month and book your reservation early. This popular event is always a sellout! The ticket cost is $45.00 per person.
Thank you in advance for your generous support of The Hilton Head Symphony Orchestra and its Youth Programs.
---
2018 Kitchens of Note Tour Recap
Judith Tyler & Candi Hough
Our 6th Kitchens of Note Tour was an amazing success in large part due to the many League Volunteers. 357 tickets were sold for the event, which matched ticket sales for the past 2 years. The event took in $6500 in sponsorships, $840 from raffle ticket sales and $150 from cookbook sales. For the first time, 1/3 of our tickets sales were completed via an online sales platform. Revenue from this event exceeded $23,000. A very special thanks to our Sponsors, Chefs and Volunteers.