Letter From the President – Gail Kaess

September has arrived and with it, new beginnings. A new symphony year, new responsibilities, new friendships and new opportunities. These beginnings can be exciting as well as challenging. I look forward to my coming year as President.
It will be rewarding to give back to an organization that contributes so much to the quality of life in the Lowcountry.
Assisting me with oversight is an outstanding Executive Committee:
Administrative Vice President – Linda Deluca
Fundraising Vice president – Candi Hough
Membership Vice President – Judy Walsh
Secretary – Terry Hicks
Treasurer – Mona Ridge
Providing leadership and implementation of League events, activities and services will be a very capable
2019-2020 Board of Directors:
Kitchen of Note Tour – Candi Hough
Musicals – Lois Hoyt Berry
Spring Luncheon – Lisa Marie Temple, Kathie Miller
Newsletter – Nancy Millette
Post Concert Receptions – Carol Gyllenhoff & Barbara Wiles
Spring Fling – Clair Craver
Symphony Under the Stars – Peter Forbes
Nominating Chairman – Mary Princing
HHIPC Liaison – Kathy & Bill Zurilla
Concours Liaison – Stan Cook
SOVA Liaison – Linda Deluca
Youth Liaison – Nancy Minor
The talent, efficiency, dedication, and willingness of our League members is truly something of which we are proud. A special thank you to all who have continued to work on projects during the summer months. You are a very special group. I look forward to seeing you at our Kitchen of Note Tour on Sunday Oct 6, from noon to 4:00pm.
Please see all the details below!
---

KITCHENS OF NOTE TOUR – Candice Hough
Experience sublime kitchens and enjoy specially prepared treats at the seventh "Kitchens of Note" Tour sponsored by the League of the Hilton Head Symphony Orchestra. The Tour will take place Sunday, October 6th from Noon to 4 pm and includes six homes in Palmetto Hall Plantation.
Each kitchen will feature a local chef providing tasty appetizers. Restaurants represented are Charlie's L'Etoile Verte, Marley's, Mixx on Main, Mulberry Street Trattoria, Olive & Fig Mediterranean Kitchen, and Savory Cafe & Provisions.
Don't miss this opportunity to see the latest in kitchen design and visit one of the Island's private communities. Tickets are $45 and reservations are limited.
Tickets are now available at Burke's Pharmacy, Le Cookery and Markel's.
For more information contact Candice Hough at, 276-620-3197.
---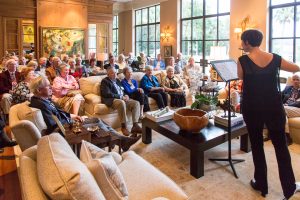 MUSICALES – Lois Hoyt-Berry
This year's musicales are set, and we are going to be using some different venues. Since the musicales are so popular, each one fills quickly, and we have had to turn down many wanting to attend. Last year we had one musicale at SoundWaves and the response was overwhelmingly positive. We will be using SoundWaves and Port Royal Beach House this year:
Sun. Oct. 27 – Port Royal Beach House
Sun Dec 8 – Spanish Wells – Private Residence
Wed Jan 8 – SoundWaves
Wed Feb 19 – Palmetto Dunes – Private Residence
Sun March 29 – SoundWaves
Sun May 3 Hilton Head Plantation – Private Residence
Please be aware that the big draw for attendance is the intimacy of the beautiful homes, we will be conducting a survey at the end of the year to see if these changes are successful.
Also note that two musicales have been moved to Wednesdays during football season.
See you at the musicales!
---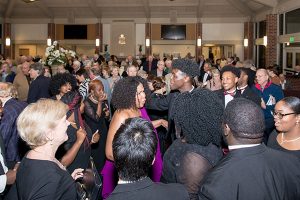 POST CONCERT RECEPTIONS – Carol Gyllenhoff, Barb Wiles, & Kathie Miller
The Post-concert receptions are fully planned for the coming year, beginning with the opening concert on October 21st.
Each reception will have a captain, and one of our committee members will be in attendance as well.
We will welcome contributions of sweets. Captains will be contacting League members to provide these. Your help will be greatly appreciated.
We are looking forward to a wonderful year!

---

HILTON HEAD INTERNATIONAL PIANO COMPETITION – Bob Koenig
The Hilton Head International Piano Competition looks forward to 2020 with great excitement as it will be our 25th anniversary! The highlight of the year will be, of course, the Competition for pianists ages 13 – 17 which takes place on March 9th -14th – mark your calendars now!
Applications from the young artists are rolling in and we expect to have a fantastic slate of competitors. If you are interested in volunteering at the competition and have not done so, please visit our website at www.hhipc.org/volunteer-for-the-2020-hhipc and complete the registration information.
Other special events for our 25th season that you'll want to know about are:
-October 10th, 2017 First-Prize Winner, Ray Ushikubo returns for a special recital at SoundWaves that will include both piano and violin. The event begins at 7 pm and tickets are $30 pp; a reception will follow.
-November 22nd, a very special recital that will feature not one, but two HHIPC prize winners. Sae Yoon Chon and Zhu Wang will perform in an exceptional evening, held in conjunction with The Performing Arts Consortium (TPAC), to celebrate Nan Strauch's commitment to and passion for the musical arts, most notably the piano. The HHIPC is grateful to TPAC for their support of this important event.
-January 25th, our 25th anniversary gala – A Musical Feast – will feature an evening of fine dining, wine, and a live auction at Sea Pines Country Club. Internationally known pianist and Professor of Piano at Oberlin Conservatory, Peter Takács, will play Beethoven in honor of his 250th birthday. Join us for this festive occasion!
For additional information on these events, please call the Competition Office at 843-842-5880.
---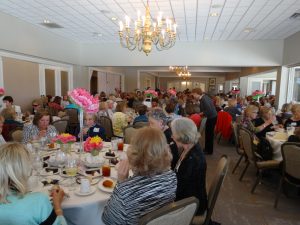 TENTH ANNUAL LEAGUE LUNCHEON/FASHION SHOW – Lisa Marie Temple & Kathie Miller
The League of HHSO invites you to attend the 10th Annual Spring Luncheon, Fashion Show and Silent Auction. This popular signature event will be held in the beautiful ballroom and rotunda of Sea Pines Country Club on March 25, 2020.
Presenting Sponsor Evelyn & Arthur promises to delight the audience with its beautiful apparel and fashion ideas.
Prior to a delicious luncheon, enjoy a social hour with time to greet friends, take part in the 50.50 Raffle and reverse raffles and bid in unique Silent Auction items. Silent Auctions to include Spa Services, Jewelry, Restaurant Certificates, Get Away Packages, Assorted Gift Packages and much more!
Put your table of 10 together now and join us at this wonderful event benefiting the HHSO and its Youth Programs!