Event details
March 21, 2020
7:30 PM
7 Lagoon Rd. Hilton Head Island, 29928
843-842-2055
To help protect the health and safety of our patrons, staff, and performing musicians, we have made the difficult decision to postpone SoundWaves programming for the foreseeable future. This follows with the recommendation by the authorities to limit gatherings of groups of more than 10 people.
Further information will be made available at hhso.org and through the HHSO office at SoundWaves.
We thank everyone for their understanding and patience as we navigate this situation. Stay healthy!
On March 21, Lowcountry Originals will feature singer-songwriters Kyle Wareham and Nick Poulin.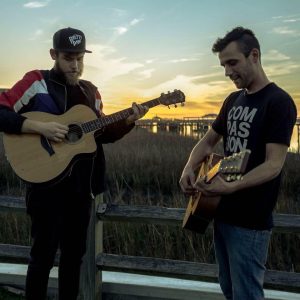 Long before Three Legged Fox and Pretty Darn, Kyle and Nick were writing and performing their own music. We have the opportunity to hear both of these talented musicians share some of their music and stories with the evening's host, Kenny Munshaw.
Raised in Philadelphia by a music-driven family, Kyle Wareham started learning to play at the age of 5. Nick Poulin, a native Hilton Head Islander, also grew up surrounded by music, often performing at open mic nights and at his church.
The songwriting process generally starts with Wareham and Poulin bouncing ideas off of each other, only bringing in other artists or sounds after they've had a chance to build a foundation together.
"We have a mainstream sound, but at the core, our music is two acoustic guitars and two vocalists," Wareham said.
Tickets are available for $25 online and at the door.
A service fee will be added for all credit card purchases.
Soda, Beer, and Wine are available for purchase.
Some information excerpted from Hilton Head Monthly Magazine's October 2018 article.