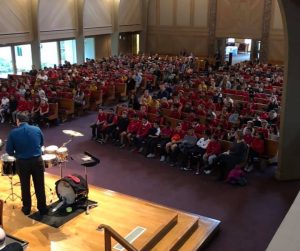 On February 10th, thousands of Beaufort County students from 2nd – 4th grades will travel to HHI's First Presbyterian Church to participate in a Young Person's Concert, under the direction of Maestro Russell!
Throughout the school year, HHSO musicians and guest artists visit 2nd through 5th grade classrooms to help prepare and excite students for their trip to hear the full orchestra at our annual Young People's Concerts. This season's participating classrooms will be from Bluffton's Red Cedar, as well as Hilton Head Island's Creative Arts and International Baccalaureate Elementary Schools. During their visits, HHSO musicians complement the BCSD music teachers' daily curriculum by extending the opportunity for students to continue to learn about different instruments, interact with professional orchestral players, and become engaged in the music making process. Music Bridges inspires harmonious excitement in 3,000+ students in the Beaufort County School District through personal musical connections.
Beginning at 9:30am on the 10th, the Young Person's Concert is the culmination of this year's Music Bridges program!
This enriching experience would not be possible without the generous support from The First Presbyterian Church of Hilton Head, The Bargain Box, The Music Performance Trust Fund, and the Mary Briggs Youth Foundation!