President's Remarks – Mary Princing
Riding The Wave – Welcome to HHSO's 37th season!
This summer has been a time for reflection. As The League makes ready to move to new office space within SoundWaves, we have packed our supplies, organized event material and sorted through photographs and albums recording the organization's beginning and rich history. We pay homage to Ellen Taylor for her vision. It was she who, along with a small group of friends and committed volunteers, founded the League and set it on a steady course forward. For more than twenty years, the League has upheld her vision as a fund-raising and friend-raising organization whose purpose is to strengthen and support the orchestra and its youth programs.
Today we have exceeded all expectations and are riding the wave of success. Through the dedication and hard work of our nearly 400 members, The League consistently has been the Symphony's largest annual contributor. At the final concert last May, we proudly presented the orchestra with a check for a record $66,000. We are looking forward to 2018-2019 and another season of continued growth, good times and financial success.
Our first Board meeting of the season will be on Thursday, September 27 in the board room at the new location at 7 Lagoon Road.  The meeting will begin at 1:00 pm
This season's fund raising events include:
− Kitchens of Note tour of six unique kitchens in the beautiful community of Belfair, Sunday, September 30, noon to 4:00 p.m.
− Six Sunday evening Musicales in six lovely low country venues, October – April.
− Spring Luncheon, Fashion Show and Silent Auction, held in the Ballroom and Rotunda of Sea Pines Country Club, Wednesday, March 20, beginning at 11:00 a.m.
Special League Services include:
− Monday Evening Post Concert Receptions organized by League volunteers and hosted by residential communities, as well as the boards of both the HHSO and The League of the HHSO.
− In addition, League volunteers provide leadership and support for orchestra events such as Fall and Spring Symphony Under The Stars, Concours d' Elegance, HHIPC and the Youth Concerto Competition.
− Spring Fling, to be held on Wednesday, May 8, 5:00 to 7:00 p.m. at Indigo Hall, is a party that will recognize, thank and celebrate all of the League's many volunteers.
We invite you to join us! Become a League member. With commitment to our vision, continued membership growth, support for our fundraising activities and special services, we are confident The League will ride the wave into a bright future.
For membership information, call Judy Walsh at 216-375-6374
Providing leadership and implementation of League events, activities and services are the capable 2018 – 2019 members of the Board of Directors:
Kitchens of Note                                            Judith Tyler 2018/Candi Hough 2019
Musicales                                                        Linda DeLuca
Spring Luncheon and Fashion Show            Char Long
Cookbook                                                        Toy Mergler
Membership                                                    Judy Walsh
Newsletter                                                        Bobbie Tucker
Post Concert Receptions                               Phyllis Patterson and Barbara Wiles
Spring Fling                                                      Lois Hoyt-Berry
Symphony Under The Stars                           Lois Hoyt-Berry
HHIPC Liaison                                                 Bob Koenig
Concours Liaison                                            Stan Cooke
SOVA Liaison                                                   Stan Cooke
I look forward to seeing you at many of our 2018-19 events!
MARY PRINCING
---
2018 Kitchens of Note Tour – Judith Tyler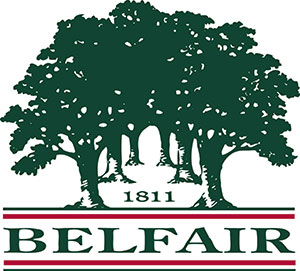 Another great Kitchen tour is planned as a kick-off to our fund raising events. This year's self-driving tour in the beautiful Belfair Community will feature 6 kitchens and local Chefs and will benefit the Hilton Head Symphony Orchestra and its Youth Music Programs.   The tour is being held on Sunday, September 30th from noon until 4:00 pm.
The Kitchens of Note Tour will move through different areas of the Belfair community.  Each kitchen will host a local restaurant Chef that has donated both their time and samples of their delicious recipes to this wonderful event.
Featured Chefs & restaurants this year are: The Pearl Kitchen & Bar – Chef Nate Clepper, Poseidon – Chef Chris Carge, RED The Restaurant and Wine Boutique – Chef Heath Prosser, Charlie's L'etiole Verte – Chef Josh Castillo, Jane Bistro & Bar – Chef Anne Sergent and Belfair – Chef Simone Concas.
This event is always a complete sell-out; tickets will be sold on a first-come, first-served basis.  Gather your friends and purchase your tickets now.
TICKETS ARE $45 EACH and are non-refundable.  For the first time, tickets may be ordered online through the www.hhso.org website or with cash or checks in Hilton Head at Burke's Pharmacy or Le Cookery and in Bluffton at Markel's Card and Gift or Belfair Fine Wines and Spirits.  For more information call 843-815-9292.
New this year is a $5 raffle for 8 – $100 prizes.  Prizes are for participating Restaurant Certificates and Lux Medical Spa Certificates.  Winners will be notified the evening after the event.
A special "THANK YOU" to this year's sponsors: TOUR SPONSORS: Billy Wood Appliance, Randy Jeffcoat Builders, KITCHEN SPONSORS: Traditions of Hilton Head, Le Cookery, The Blaine Team of Keller Williams, Moss Creek Village Furniture, Kelley Designs Inc., Lux Medical Spa, Kroger Bluffton and StoneWorks.  Please patronize these fine businesses that support our event.
---
Welcome to Musicale Sundays 2018-19, our 18th Season – Linda DeLuca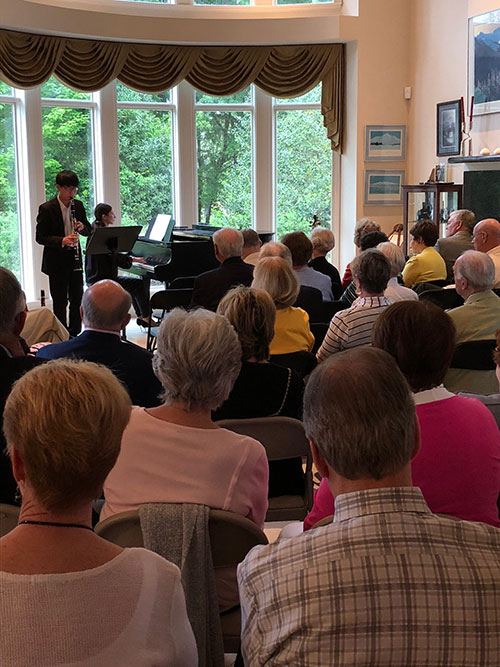 Mario Incorvaia, Vice-President for Operations of our Hilton Head Symphony Orchestra, has planned six exciting and varied programs for the 2018-2019 Musicale Season. Each one features talented musicians, both seasoned professionals and aspiring young talent, held in some of our areas most beautiful homes. We are immensely grateful to our gracious hosts whose names are listed below. The programs are from 5PM to 7PM, beginning promptly at 5PM followed at 6PM by wine and savories prepared and served by League volunteers.
Speaking of the food prepared and served by League volunteers, prior to each Musicale, volunteer Kitchen Captains will contact League members about providing savories or sweets for the event. If called upon, we hope you agree that this is an important way in which you can help and will say 'yes' when contacted.
Watch your mailbox in September for your invitation and reservation card. We urge you to make your selections early and return your reservation card promptly as these events are very popular and can sell out quickly. You will note a place on your reservation card where you may agree to be a Musicale sponsor. Please consider a sponsorship at the level at which you are comfortable; our sponsors are very important to the success of Musicales.
We hope you will join your friends and fellow League members for our Musicale Sundays. For further information you may contact Linda DeLuca, Musicale Chair or Terry Hicks, Musicale Reservations at 843-707-1723.
Now for a quick look at the 2018-2019 Musicale Season: (your invitation will have more detailed information)
Sunday, October 28 | SoundWaves
Chamber "Musaic" 
Classical and Jazz worlds collide! Claude Bolling's dynamic Suite for Cello and Jazz Trio highlights this program of chamber music of musical forms from both sound worlds. Cellist Lee Richey, pianist Barbara Lister-Sink, bassist Marc Chesanow, and percussionist Stephen Primatic team up to inaugurate Musicales in our exciting new home, SoundWaves!
Sunday, November 18 | Mary Twohig (Wexford)
Tales of Travel and Trials
Our very own violinists Jason Economides and Jonathan Aceto take us on a musical adventure with two bows. Their guided tour includes George Philipp Telemann's fanciful Gulliver Suite for Two Violins, William Kroll's playful Peter Rabbit, a two-violin arrangement of Mozart's famous march – Turkish Rondo from his A major piano Sonata, Frenchman Darius Milhaud's elegant Duo for Two Violins, and more!
Sunday, December 9 | Mary Noonan (Hilton Head Plantation)
Holiday Fantasia 
Reid Messich, HHSO principal oboist, with accompanist Greg Hankins, decorate the holidays in spirited European tradition with a light and pensive musical collection of Fantasias by George Philipp Telemann, Eugene Bozza, and Henri Brod. Enjoy the serene sounds of the heart of our orchestra as you ready for the hectic holidays!
Sunday, February 17 | Mary & Mark Williams (Sea Pines)
Two Views of Jazz
Low country based Junior Jazz All-Stars, Hani'el and Eden Mastriani-Levi, present an evening of Jazz standards and beloved favorites. Join them for an intimate night of musical explorations!
Sunday, March 10 | Lesley Green (Wexford)
Chamber Roots: Fiddlin'
Violin/fiddle duo HHSO violinist Erica Pisaturo & her husband Scott Moore come all the way from Louisville, Kentucky, bringing their unique and fun Americana program mixing traditional Bluegrass tunes with some personal and moving originals of Scott's. This is one you'll be plum tickled to hear!
Sunday, April 28 | Chelon Stanzel & Ken Pap (Indigo Run)
La Vie en rose "Life in happy hues" 
Be transported by the atmospheric colors of the harp in this lovely French program that includes La vie en rose, Sous Le Ciel De Paras, Padam Padam, Clair de Lune, Offenbach's Barcarolle, and popular selections from Les Miserables, all performed by Savannah harpist Kristin King and her comrade, Savannah Voice Festival's Rebecca Flaherty.
---
Symphony Under the Stars – Lois Hoyt-Berry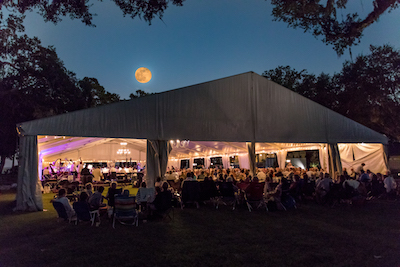 You don't want to miss two of the most fun-filled events the Hilton Head Symphony Orchestra has to offer – Symphony Under the Stars. The first event is coming up fast on October 2nd and 3rd at Palmetto Bluff's Moreland Village. With anticipation of beautiful music in the fresh evening air, patrons show up with their picnic baskets & table decorations (if they choose) & are there for fun. Many people chose to dress to the theme to see if they can win the "best dressed" prize or win for best table decorations. The theme this year is Salute to Hollywood and features music from Hooray for Hollywood, Gone With the Wind, My Fair Lady, Titanic, Sound of Music & Star Wars. Seating is available either under the tent or under the stars outside the tent. Single seating is offered inside under the tent as well. Prices are: $75 & $85 for table seating, $50 for Concert Seating, $25 for Lawn Seating. Don't forget to bring plenty of cash in order to purchase tickets for the 50/50 drawing – one lucky patron could take home several thousand dollars!  Gates open at 6pm & the concert begins at 7pm.
The second Symphony Under the Stars with Deas Guys is planned for April 9th and 10th on Hilton Head Island. Look for more information on the April event in future newsletters.
---
2018-19 Post Concert Receptions – Phyllis Paterson & Carol Gyllenhoff
The League of the Hilton Head Symphony is pleased to continue providing a light reception after each of the ten 2018-19 Monday night Symphony concerts.  The post-concert receptions are planned and prepared by League members from various plantations throughout the community and provide concert goers with an opportunity to meet the musicians, visit with each other and generally continue the ambiance of the evening.  Three receptions will be held at Sound Waves this year; which will be new and different for all. The other seven concerts/receptions will be held at the First Presbyterian Church. If anyone is interested in being a part of a post-concert reception, please contact Phyllis Patterson.
We hope you will take advantage of this amazing opportunity to connect with fellow music lovers.
---
Hilton Head International Piano Competition (HHIPC) – Bob Koenig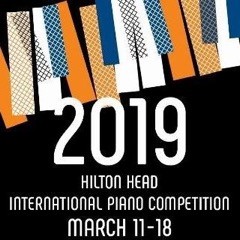 If you have ever considered volunteering at the Hilton Head International Piano Competition (HHIPC), NOW is the time to act! There are volunteer positions to suit everyone's interest – including Ushers, Ticket and Merchandise Sales and Competitor Greeters – and signing up to volunteer could not be easier; just follow these three easy steps:
Visit the Hilton Head International Piano Competition website at hhipc.org
Click on the "Volunteer" tab at the right end of the top banner or the "Want to Help the HHIPC" volunteer tile.
Complete the on-line registration form and click the "submit" bar to send your contact information to us.
While at the Volunteer's section of the website, you'll be able to see the volunteer requirements, the volunteer calendar, and more details on the volunteer positions.
The 2019 competition begins on Monday, March 11 and concludes on Monday, March 18 with the three finalists each performing a complete piano concerto with the Hilton Head Symphony Orchestra conducted John Morris Russell. As this competition is for pianists ages 18 – 30, the event also includes a Semi-final performance round on Saturday, March 16.
As a volunteer, you will have the opportunity to participate in one of the major musical events on the Island and get to hear 20 of today's foremost young artists display their amazing talents!
If you have specific questions, please contact Bob Koenig at bjkoenig@hargray.com or by phone at 843-815-4810.
---
Spring Fashion Show – Char Long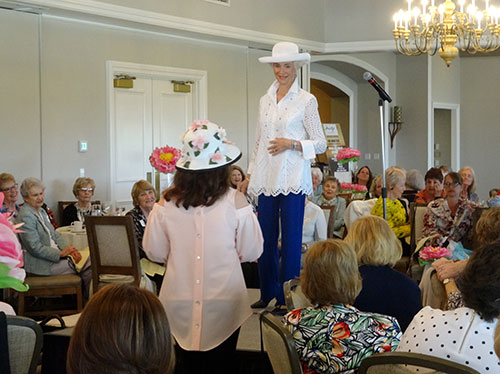 Save the date – March 20, 2019. The League Spring Fashion Show and Luncheon will be held at the Sea Pines Country Club beginning at 11:00 am. The event will be another spectacular afternoon for fine food, great friendships, beautiful fashions and a silent auction all to benefit the League and Symphony. Mark your calendars now and look for information regarding tickets, tables and sponsorships in future newsletters.
---
SoundWaves – Mary Briggs – the ebb and flow of progress!
The Symphony has a new location and will soon be moving into its new building aptly named Sound Waves at 7 Lagoon Road in the Coligny area of Hilton Head. While construction has been progressing since earlier this year, we all know that construction never progresses as we would like. A few delays have popped up along the way but we are taking it in stride and are targeting a September 17th move-in date. Several events are planned for our new location this season including a Prelude Event on September 29th from 5pm to 7pm. All are welcome at our open house and are encouraged to join us, check out our new offices and event space while enjoying light refreshments and wonderful music. Keep your eyes and ears open for more updates on this front.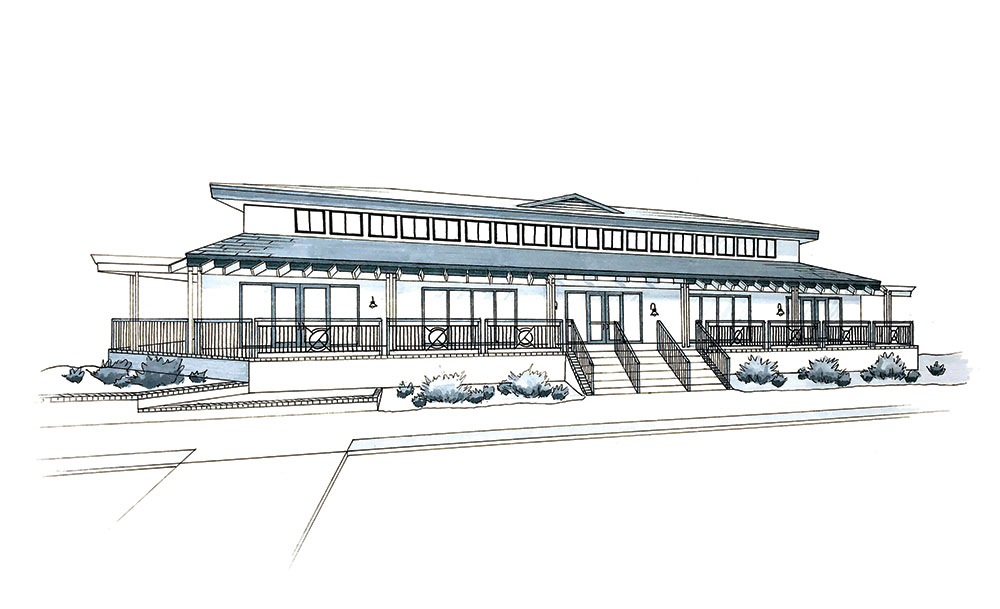 ---
Membership – Judy Walsh
The League is pleased to report that as of this publication, we are 339 members strong.   Our memberships include 120 couples and 99 single members. This report includes 23 new couples and 9 new single memberships for the 2018-19 season. We would love to see our numbers grow and appreciate all of our membership sharing the League experience with the families, friends and neighbors. See the HHSO website – www.hhso.org – for a downloadable membership form.