THE SEASON ENDS ON A HIGH NOTE! 
RETIRING PRESIDENT STAN COOKE'S REPORT
As we conclude the 20th Anniversary year of the League of the Hilton Head Symphony Orchestra, we might say that it was the most trying year of all! Mother Nature's behavior resulted in several challenges of cancelled events—a Musicale and a Symphony Under the Stars. These, in addition to the change of venue for the Spring Luncheon and Fashion Show, made it a more stressful season. As usual, however, the League members rose to the challenges and the season ended with a well-attended and successful Spring Fling.
During the 2016-17 symphony season the League volunteers provided the man-woman power on twenty-two occasions for over 2000 volunteer hours. This began with the wonderful Kitchens of Note Tour in late September and continued through the nine symphony receptions, the six Sunday Musicales, the Concours d'Elegance, the Youth Concerto Competition, the International Piano Competition, the FashionShow/Luncheon and Symphony Under the Stars. None of these activities could have been possible without the dedication of the 400 League members who donate both their time and financial support.
As a result of the League's fund-raising efforts, a check for $65,000 was presented to Mary Briggs, CEO of the orchestra, at the final symphony concert. This year $10,000 of this amount was designated for youth programs and included the grant from Driving Young America, During the past twenty years the League has donated in excess of $600,000 to support the Hilton Head Symphony Orchestra. BRAVO LEAGUE!!!!
At the annual meeting we said farewell to the following League Board members who are retiring after many years of service: Donna Zorge, Susan Forrest, Betsy Roll, and Julie Williams. Their dedication over many years has been outstanding and their contributions, priceless. There have been so many exceptional volunteers this season and two were recognized as the League Volunteers of the Year: Susan Forrest and Phyllis Patterson. Without their leadership the concert receptions would not have taken place.
The League would like to express our gratitude to the orchestra staff and the HHSO Board of Directors who continue to support our organization and activities.
 MUSICALES END WITH A TRIBUTE TO THE SOPHISTICATED LADIES OF JAZZ: Mary Princing, Chair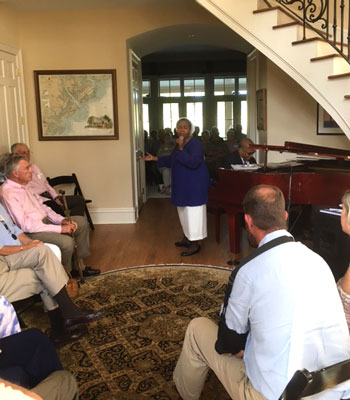 The 2016-2107 Musicale season ended on a high note. Bob and Heather Cherichella hosted the April 30th finale in their lovely home in Wexford. Guests were treated to a delightful evening of music presented by Atlanta Jazz Artists—vocalist Rosemary Rainey and pianist John Roberson as they paid tribute to the Sophisticated Ladies of Jazz. The evening was topped off with wine and soft drinks and delicious hors d'oeuvres and tasty sweets.
Many thanks to all who made this year's Musicales both an artistic and financial success. We could not have done it without:
OUR HOSTS: Linda and Ray Moloney, Nina and Stu Rodman, Mona and Joe Huff, Nancy and John Diamond, and Heather and Bob Cherichella
OUR KITCHEN CAPTAINS: Jo Nuce, Mary Murray, Mieke Smit, Suzanne Macdonald and Terry Hicks and the many volunteers who so willingly provided the delicious food throughout the year
THE MUSICALE COMMITTEE: Nancy Hudak, Marguerite Miletic, Stan Cooke, Peter Forbes, and Bill Clark
MARIO INCORVAIA who arranged all the musical programs
THE INDIVIDUAL SPONSORS who sponsored the musicians with their financial support
OUR AUDIENCE: Thank you to all League members for attending this season's Musicales. We appreciate your enthusiastic support!
Plans are already underway for the 2017-2018 season. Under the leadership of Co-chairs Nancy Hudak and Linda DeLuca, it's bound to be another outstanding season! Watch for your invitation that will arrive in the mail shortly after Labor Day!
---
HILTON HEAD INTERNATIONAL PIANO COMPETITION: Bob Koenig, Liaison
The March 2017 Hilton Head International Piano Competition provided us with wonderful performances from our 20 young pianists and culminated in a superb Finals Concerto competition on March 11 at which the five finalists performed with the Hilton Head Symphony Orchestra conducted by Music Director John Morris Russell. After some deliberation our panel of international judges announced the following results:
First Prize – Ray Ushikubo
Second Prize – Andrew Li
Third Prize – Jaeden Izik-Dzurko
Finalist – Hoi Leong Cheong
Finalist – Arthur Wang
Sascha Gorodnitzi Memorial Prize – Biguo Xing
Peter Takács Classical Sonata Prize – Jaeden Izik-Dzurko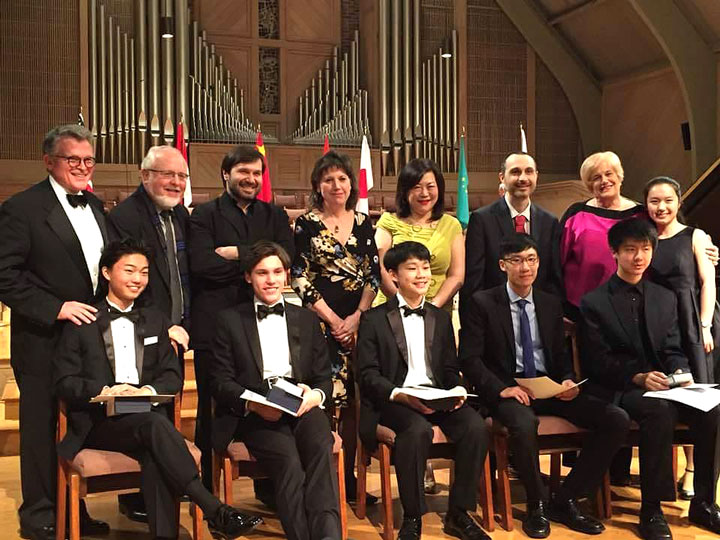 The five finalists and prize winners are shown in this photo along with Competition Director Mona Huff, Conductor John Morris Russell and our distinguished judges. The audience at the Finals had the unique opportunity to experience four interpretations of the Tchaikovsky Concerto No. 1 and the Beethoven Concerto No. 3.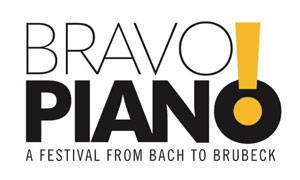 New next year – the Hilton Head International Piano FESTIVAL – BravoPiano! Debuting in March 2018, this innovative event will spotlight outstanding former HHIPC prize winners as well as other well-known pianists, as they perform in solo recitals, chamber music programs, and other events. You'll be able to attend lectures/recitals and discussions about music, piano in particular. Especially exciting is the introduction of a jazz thread throughout the competition. Please mark your calendars now for March 8 – 12, 2018 for BravoPiano!
---
FASHION SHOW/LUNCHEON: Lois Hoyt-Berry, Chair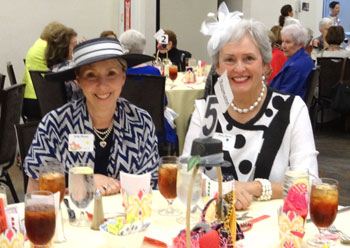 Because the Sea Pines Country Club was closed for renovations, this year's fashion show was held at The Sonesta in Shipyard. The Sonesta provided ample parking and many took advantage of the valet parking.
Thanks to all who attended—278 in number—and to those who helped to net the League $8, 697.50 to contribute to the symphony. The committee was:
Char Long in charge of the fashion show, table decorations, signs
Carol Gyllenhoff in charge of the auction
Fran Hubbell in charge of the close-out
Gail Kaess in charge of the 50-50
We are particularly grateful for those who helped set up the day before and worked the day of the fashion show. We look forward to next March when the fashion show will return to the Sea Pines Country Club.
---
FIFTH ANNUAL KITCHENS OF NOTE TOUR: Lois Wilson, Chair
This popular League event will take place on Sunday, September 24th, from noon until 4:00 PM in the lovely community of Moss Creek. Six inviting kitchens with views of marsh and water will be on display.
Six chefs representing a new variety of restaurants, including a dessert presentation, will tempt all who attend with their delicious offerings. Friendly Moss Creek permits all participants to drive and park at each venue in their own cars.
Tickets are $40 and may be purchased before public sale in August by calling Lois Wilson at 843-837-3553. Tickets are limited. This has always been a sell-out so do get your tickets early!!
---
MEMBERSHIP COMMENTS, Marguerite Miletic, Chair
We are starting next season with almost 400 members of the League to date. Two exclusive membership benefits are invitations to the Sunday Musicale and the Spring Fling. There are also many opportunities to participate in our other functions as a volunteer or guest. Members receive first notice of the Fall Kitchens of Note and Spring Fashion Show before tickets go on sale to the public. Because both of these are sell-outs, this is a decided advantage of League membership. It also gives you a chance to make new friends, volunteer to help our symphony, enjoy special music performances, and have fun, all in support of the HHSO.
Membership applications are available on line at hhso.org/League and we welcome you to join if you have not already done. We hope you will encourage friends to join as well. Do it now so you will be included in the 2017-2018 directory.
---
SPRING FLING: A Thank You to League Volunteers

Under the capable leadership of Toy Mergler, this year's Spring Fling was held on Wednesday, May 10, 2017. Approximately 150 League members enjoyed a lovely evening with Symphony friends. A buffet table of beautifully presented appetizers, complimented wine and a variety of soft drinks were served in the lovely surroundings of Indigo Hall in Indigo Plantation.
Stan Cooke called the brief Annual Meeting to order at 6:00 pm. He thanked all of the League's many volunteers and gave special recognition to retiring board members: Susan Forrest, Barbara Holmes, Betsy Roll, Julie Williams, and Donna Zorge. He congratulated Volunteers of the Year Susan Forrest and Phyllis Patterson for their outstanding job in organizing and managing the Post Concert Receptions. The slate of Officers for 2017-2018 was presented by the nominating committee and duly elected by the membership.
Incoming President, Mary Princing, presented Stan Cooke with a beautiful plaque and a spiffy bow tie featuring musical instruments in appreciation of his outstanding job as President of the League from 2015 to 2017. The Executive Board and Board of Directors for 2017-2018 were introduced.
President: Mary Princing
Vice President—Fund Raising: Char Long
Vice President—Administration/Volunteers: Carol Gyllenhoff
Secretary: Judith Tyler
Treasurer: Fran Hubbell
2017 Kitchen Tour: Lois Wilson and Stan Cooke
Musicales: Nancy Hudak and Linda DeLuca
Spring Luncheon/Fashion Show: Lisa Marie Temple
Cookbook: Toy Mergler
Membership: Marguerite Miletic and Judy Walsh
Future Planning/Board Development: Gail Kaess
Newsletter: Bobbie Tucker
Concert Receptions: Phyllis Patterson and Barbara Wiles
Spring Fling: Lois Hoyt-Berry
Symphony Under the Stars: David Theobald and Lois Hoyt-Berry
HHIPC Liason: Bob Koenig
Concours Liason: Stan Cooke
SOVA Liason: Stan Cooke
And so ends a very good year. We look forward to more memory-making in the upcoming year. We hope, if you haven't already participated, that you will become actively involved in the work of this wonderful organization which devotes itself to the support of our superb symphony. A relaxing, restorative summer to you all. See you in the Fall!!