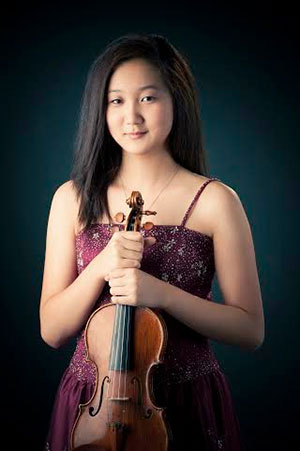 "The violin is my voice." "I feel a rush of energy flow through me when I play. When I am in the practice room, it is just me. I am playing for myself. But when I am on stage, the music I played for myself in the practice room becomes the music that I share with everyone. It is my voice. Through that voice I am able to communicate my emotions and feelings. Through the music, the audience and I become one. What I feel afterward are the most unexplainable, most powerful, happiest feelings ever."
And powerful they are. The young musician was recently named Grand Prize winner of the 2016 Delta Symphony Young Artist Competition in Arkansas, and thus chosen to perform with the orchestra. She competed with graduate students up to 26 years of age. At eleven, she was winner of The American Protégé International Competition, and at twelve, made her orchestral debut as a soloist with the Louisiana Philharmonic Orchestra and has appeared with the Georgia Philharmonic Orchestra, the Interlochen Symphony Orchestra and the Southern Adventist University Orchestra.
Too many to mention, her myriad of accomplishments include second prize at the Lois Pickard Music Scholarship Competition and first at the Alabama Federation of Music Clubs Competition. Internationally, she won first place in the junior division of the 2014 ENKOR International Competition for Violin and Piano and third place at the Second Leopold Auer International Violin Competition in St. Petersburg, Russia.
Most recently, Kim was selected as one of the seven finalists for the 2016 Blount-Slawson Young Artist Competition. She won the 2016 Alabama Symphony Youth Orchestra Concerto Competition and the 2016 Hilton Head Symphony Orchestra Concerto Competition and she will return to perform with them both as a soloist next season.
Finishing her ninth grade studies this Spring, Kim looks forward to a career in music as a soloist and as a chamber musician. She is currently studying violin with Cornelia Heard at Vanderbilt University and Jenny Gregoire at the University of Alabama. Kim has been a recipient of Vanderbilt's prestigious Myra Jackson Blair Scholarship for the last four years. Currently, she is concertmaster of the ASFA Orchestra, Alabama Symphony Youth Orchestra and the 2016 Alabama All State Festival Orchestra.
Currently, she is learning "The Tchaikovsky Violin Concerto," a magnificent piece that runs the gamut of emotions. "Being able to feel the emotions of the composer allows me to fall in love with every piece I study.  And hopefully, the audience will fall in love too." For some reason, we have no doubt.