President's Remarks – Mary Princing
Welcome to HHSO 36th season – American Mosaic.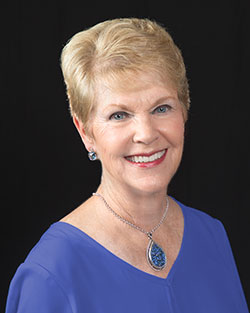 In the art world, a mosaic is defined as "an inlaid work composed of bits of stone or glass forming a pattern or picture."   This season, the HHSO will present a mosaic of music featuring a variety of sounds, styles and textures creating auditory patterns and pictures.
The League of HHSO also can be thought of as a mosaic.  It is an organization composed of 440 dedicated, uniquely talented individuals. In its own way, each individual can be considered a beautiful piece of polished stone or vibrant glass.  These individual pieces come together to create a pattern of volunteerism and a picture of service.
The purpose of the League is to support and promote HHSO and its associated programs. This is accomplished through fundraising, special events, music education and volunteer services to encourage community awareness and appreciation of the Orchestra and its associated programs.
It is my honor to serve as president of the League for the 2017 – 2018 season.  As president, it is my responsibility to oversee the League's events, activities and services and to ensure that each fulfills the League's intent and stated purpose.  Assisting me with oversight is an outstanding Executive Committee.
If you are a seasoned League member, we thank you from the bottom of our hearts.  If you are a new member, we welcome you! We urge you all to join our League Mosaic as we create a pattern of volunteerism and a picture of service.
2017 – 2018 Executive Committee
President – Mary Princing
Vice President Fundraising – Char Long
Vice President Services/Volunteers – Carol Gyllenhoff
Secretary – Terry Hicks
Treasurer – Fran Hubbell
Ex-Officio – HHSO President and CEO – Mary Briggs
Providing leadership and implementation of League events, activities and services is the capable 2017 – 2018 Board of Directors:
Kitchens of Note                                           Judith Tyler
Musicales                                                       Nancy Hudak and Linda DeLuca
Spring Luncheon and Fashion Show          Lisa Marie Temple and Wendye Hearsh
Cookbook                                                       Toy Mergler
Future Planning/Board Development         Gail Kaess
Membership                                                   Marguerite Miletic and Judy Walsh
Newsletter                                                      Bobbie Tucker
Post Concert Receptions                             Phyllis Patterson and Barbara Wiles
Spring Fling                                                    Lois Hoyt-Berry
Symphony Under The Stars                         David Theobald and Lois Hoyt-Berry
HHIPC Liaison                                                Bob Koenig
Concours Liaison                                           Stan Cooke
SOVA Liaison                                                  Stan Cooke
Last season, under the leadership of Stan Cooke, League members logged in excess of 2,000 volunteer hours and contributed a total of $65,000 to the Orchestra and its youth programs.  Our goal this year is equally ambitious. We urge you to mark your calendars. Volunteer your time and talent.  Attend our fundraising events and be part of our special services.
---
5th Annual Kitchens of Note Tour – Stan Cooke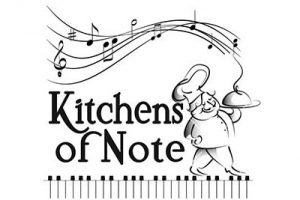 As September approaches, the Kitchens of Note committee is busy completing plans for our 5th NOTES Tour.  This year, the event is scheduled for Sunday, September 24th from noon until 4:00 pm in Moss Creek Plantation.  As in the past, a limited number of tickets are available at$40/pp.   A significant number have already been sold.  No tickets are sold the day of the event so purchase early by contacting Dona Newman at dsnewman1@hotmail.com or phone (843) 836-2986.  Tickets may also be purchased at Christie's Hallmark and Markel's in Bluffton and Le Cookery, Burke's Pharmacy and Christie's Hallmark in Hilton Head.
Things to look forward to this year are that each of the beautiful homes has a water view to enjoy, and there are several new food vendors along with the return of favorites.   Each home will provide tasty fare from the following eating establishments:
Michael Anthony's Cucina Italiana, Sea Grass Grill, Sandbar Beach Eats, Marley's Island Seafood Grille, Hogs Head Kitchen and Wine Bar, and Twisted European Bakery.
The Kitchens of Note Tour could not be the success it is without our generous sponsors: Billy Wood Appliance, Stoneworks, Lawrence Taylor (Broker/Realtor, Charter One Realty), Traditions of Hilton Head, Le Cookery, Abby Floor Fashions, Moss Creek Village Furniture and Sequins Ballroom.   Looking forward to seeing everyone in the kitchen!
---
Overtures and Encores – HHSO Cookbook – Toy Mergler
Dear League Members, once again we would like to thank you for your contributions to the HHSO through the purchase of our "Overtures and Encores" cookbook. We still have some cookbooks available for sale.  The cost is $20.  The cookbooks make great gifts for a hostess or family gifts for the holidays.  They will  available for purchase at our kitchen tour event and many other up and coming events. We look forward to seeing you soon.  If you want a "taste" of one of the many delicious recipes, check this one out.
CHEESY ONION & FIG FILO CUPS
2 pkg. mini filo shells (30)
2 medium onions, minced
1 T. olive oil
3 T. butter
1 1/2 tsp. sugar
1 jar fig jam
1/2 lb. blue cheese, crumbled.
Over medium heat sauté onions in the olive oil and butter until they are soft and slightly brown. Sprinkle with sugar. Once the onions are fully caramelized place 1 generous teaspoon of the onion in each of the filo shells. Add a 1/2 teaspoon of fig jam on top. Finish with a few crumbles of blue cheese as a garnish. Place filo shells on a cookie sheet. When ready to serve heat in 400 degree oven for 5 to 7 minutes or until cheese is melted, Yields 30.
---
Symphony Under the Stars  – David Theobald and Lois Hoyt-Berry   
October 3-4, 2017 – Montage Palmetto Bluff 
New this year, The Hilton Head Symphony Orchestra (HHSO) will add a second Symphony Under The Stars in 2017, Symphonic Soul.  The event, traditionally held in April each year is an addition to the 2017-18 calendar and will be held October 3 and 4, 2017 at Montage Palmetto Bluff.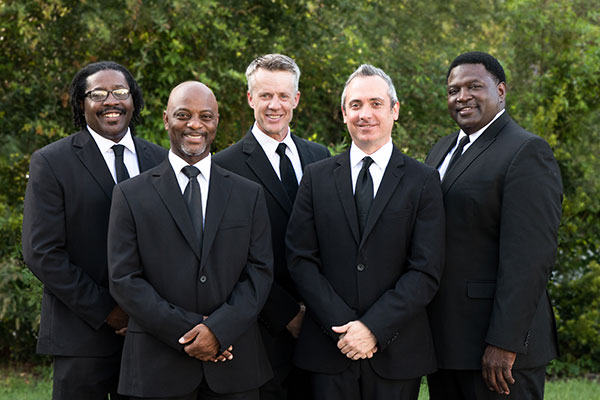 Join the orchestra under the baton of John Morris Russell as they bring you the music of Ray Charles, Gladys Knight, Stevie Wonder and Motown featuring the dynamic group, "DEAS GUYS". In a large festive tent, under the baton of John Morris Russell, patrons can enjoy the music and dinner with friends.  Table groups use the concert themes to inspire costumes, table decorations and dinner menus as they compete for a variety of prizes. What a fun way to get into the spirit of this exciting evening!
Whether you put a table of ten together, design costumes, have your dinner catered or bring your picnic and sit outside under the stars, you will get into the spirit of this always thrilling evening. You can provide your own refreshments, but wine, beer, soft drinks and water are available for sale by the League of the Hilton Head Symphony Orchestra.  Montage Palmetto Bluff has Picnic Baskets available for ordering.
Call 843-842-2055 for tickets to "Symphonic Soul" today!
---
Welcome to Musicale Sundays 2017-2018 – Nancy Hudak
Mario Incorvaia, Vice-President for Operations for our Hilton Head Symphony Orchestra, has planned six exciting and varied programs for the 2017-2018 Musicale Season.  Each one features talented musicians, both seasoned professionals and aspiring young talent, held in some of our areas most beautiful homes; each unique and special with spectacular views of the Lowcountry.  We are immensely grateful to our gracious hosts whose names are listed below. The programs are from 5PM to 7PM and begin promptly at 5PM followed at 6PM by wine and savories prepared and served by League volunteers.
Speaking of League volunteers, we have a volunteer team of Kitchen Captains who have agreed to oversee the food for each of the six Musicales. They will contact other League members to bring food for each of the Sunday Musicales.  We hope you agree that this is an important way in which you can help and will say 'yes' when contacted.  The Captains for this year are: October, Terry Hicks; November, Suzanne Macdonald; December, Barbara Wolf; January, Martha Mewbourne; February, Ginger Caporal; April, Sheila Standen.
2017-2018 marks the 17th anniversary of the Musicales.  Watch your mailbox in early September for your invitation and reservation card.  There is a place on your reservation card where you may agree to be a sponsor. Please consider a sponsorship at the level at which you are comfortable; sponsors are important to the success of our Sunday Musicales.
We hope you will want to join your friends and fellow League members for our Musicale Sundays.  We urge you to make your selections and return your reservation card promptly as these events are very popular and can sell out quickly.  For further information you may contact Nancy Hudak or Linda DeLuca, Musicale co-chairs or Marguerite Miletic, Membership Chair.
Now for a quick look at the 2017-2018 Musicale Season. Your invitation will have more detailed information.
Musicale #1 ~ Violin Classics – Must-Have's for Every Music Lover
Sunday, October 29th at the home of Mike and Sue Harter
Accomplished young violinist Sam Parrini won the hearts of HHSO's 2017 Youth Concerto Competition this past year.  Accompanied on the piano by his father, Fabio Parrini, Sam will perform some of the most famous violin masterworks.
Musicale #2 ~ Cameron and the Funk Dumplins
Sunday, November 12th at the home of Sharon Miller
This Charleston based Jazz trio, that includes HHSO members, will present New Orleans Jazz-styled funk that will have you dancing in your seats.
Musicale #3 ~ Happy "Hall"idays!
Sunday, December 17th at the home of Ray and Linda Moloney
Emily Grundstad-Hall, vocalist, and Jared Hall, pianist, a Savannah based husband and wife duo, will present a spirited and joyous program to celebrate the season.
Musicale #4 ~ Dance of the Green Devil
Sunday, January 21st at the home of Stan and Judy Bluestone
If this program sounds familiar it's because it was pre-empted last season by Hurricane Matthew.  Cellist Amy Goto will perform a dynamic program, which will include Cassado's flashy Spanish suite Dance of the Green Devil.   Chee-Hang See will accompany Amy on piano.
Musicale #5 ~ From the Parlor to the Big Screen
Sunday, February 18th at the home of Robert and Elizabeth Hancock
HHSO violinists Gerome Stewart and Kevin Chaney will present a fascinating collection of masterful duo violin music that will lead us in time from classical parlor music to twentieth century silver screen gems.
Musicale #6 ~ Quintessential Clarinet
Sunday, April 22nd at the home of Mike and Mary Briggs
Clarinetist Yi Sak Kim returns from his appearance as a finalist in the HHSO Youth   Concerto Competition.  He will perform some of the most beloved excerpts from the      clarinet concerto repertoire.
---
2017-18 Post Concert Receptions – Phyllis Patterson
Orchestra members and the audience are invited to attend the symphony receptions held in the gathering space at the First Presbyterian Church after the Monday night performances.   League members from different plantations or combination of plantations will provide refreshments.  All the volunteers will come from those plantations on their specific date.
Barbara Wiles and Phyllis Patterson, co-chairs of Symphony Receptions announce the following chairmen for the 2017-2018 Concerts Receptions:
Sept 18: no reception at the church
October 23: training reception: Barbara Wiles and Phyllis Patterson
November 6: Long Cove & Wexford Plantations: Chairmen is Carol Draeger
December 4: Shipyard, Port Royal, Palmetto Dunes & Palmetto Hall Plantations:  Mary Noonan & Janine Nelson co-chairmen
January 15: Tide Point: Barbara Wiles is chairman
February 12: Sea Pines Plantation: Phyllis Patterson is chairman
February 26: Hilton Head Plantation: Barbara Wolfe & Dodi Eschenback : co-chairmen
March 12: Festival Symphony:  Symphony Board handling reception
March 26: Moss Creek:  Susan Forest, chairman
April 30: Belfair, Colleton River, Hampton Lakes, Berkley Hall, Spanish Wells, Indigo Run,  Windmill Harbor:  Karin Haupstein, chairman
May 14: League Board is handling reception.
---
2018 Hilton Head International Piano Competition – Bob Koenig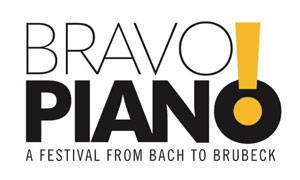 The Hilton Head International Piano Competition is excited to announce a new addition to its schedule – BravoPiano! … A Festival from Bach to Brubeck.  Debuting March 8-12, 2018, this innovative Festival will spotlight outstanding former prize winners from our competitions, as well as other world-famous pianists, as they perform solo recitals, a chamber music program, and concerti with the Hilton Head Symphony Orchestra.  You'll also be able to attend lecture/recitals and discussions about music – piano in particular.  Audience favorites Elliot Wuu, Steven Lin, Fei-Fei Dong, and Charlie Albright are scheduled to appear.  The HHIPC is particularly grateful to the League of the HHSO for their financial support of Elliot's performance.
Especially exciting is the introduction of a jazz thread throughout the festival!  All of the jazz events will be held at the Westin Hilton Head Island Resort & Spa – the official venue for hotel accommodations and many of the BravoPiano! events, including a performance by jazz great pianist, Christian Sands.  You'll also enjoy a Sunday Brunch and conversation with our own John Morris Russell, Jon Kimura Parker and other special guests.
The grand finale of the festival will feature our own Hilton Head Symphony Orchestra and four spectacular pianists:  Charlie Albright (Third Prize winner of HHIPC in 2007) playing Ravel's Piano Concerto in G; Ran Dank (First Prize winner in 2008) and Soyeon Kate Lee playing Mozart's Concerto No. 10 in E-Flat major for Two Pianos; and Jon Kimura Parker returning to Hilton Head to play George Gershwin's Concerto in F.   BravoPiano!, with its many events, promises to bring variety, beautiful music, a myriad of talent, new experiences, and fabulous enjoyment to our HHIPC audiences.  You'll definitely want to participate in the inaugural HHIPC Festival event March 8 – 12, 2018.
---
Spring Fashion Show – Lisa Temple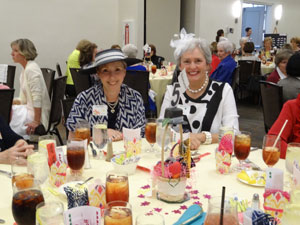 The League of the Hilton Head Symphony Orchestra is excited to announce that our Eighth Annual Spring Luncheon/Fashion Show will be returning to the Sea Pines Country Club on March 21, 2018.  Next year's premier Ladies Event will be held within the Club's beautiful Rotunda and Ball Room where you will enjoy a delicious lunch and a unique fashion show from "So Sandra" Boutique, one of Hilton Heads newest Ladies Apparel Boutiques.  "So Sandra" touts elegant and affordable clothing and accessories along with the reputation of superior customer service and professional stylist assistance. There will also be an active social hour prior to the luncheon along with a 50/50 Raffle and the very popular Silent Auction.  The Silent Auction will feature over 100 unique items such as Restaurant Certificates, Boutique Gifts, Spa Services, jewelry along with getaways, assorted gift and wine baskets as well as many more specialty pieces!  Hope you can join us for this wonderful event benefiting the Hilton Head Symphony Orchestra and its Youth Programs.
Spring Fling – Lois Hoyt Berry    May 2, 2018

We hope you enjoy reading the League's Fall Newsletter.  In the future, should you wish to read it again or access dates and times for the league events, go to the orchestra's website www.hhso.org
and click on League.