HHSO 35TH SEASON – MUSIC OF GRANDEUR AND MAJESTY!  
The League of the Symphony is proud to support these outstanding evenings of wonderful music!!
---
THE LEAGUE OF THE HILTON HEAD SYMPHONY ORCHESTRA – ANNUAL REPORT 
STAN COOKE, LEAGUE PRESIDENT 
VOLUNTEERS:  League members again had a record year with over 2000 hours of volunteer effort and a new record was also set for the number of events hosted.  Musicales, the Youth Concerto Competition, the International Piano Competition, Concours d'Elegance, the Spring Fashion Show, Symphony Under the Stars, Spring Fling, and for the first time, the reception after the Beaufort Youth Orchestra performance—twenty-three times that the League members stepped forward to assist with staffing events during a nine month period!
FUND RAISING:  The League was again proud to be named as a Season Sponsor of the Orchestra in recognition of our financial support.  This year all the League's fund raising events were sold out and several had waiting lists. (We are sorry that not all of our members were able to secure tickets for the events of their choice.)  At the final symphony concert, the League president presented a check to the Orchestra CEO, Mary Briggs, in the amount of $65, 300.  This did not include the $1000 that was presented to the Beaufort Youth Orchestra.  The total given to support youth programs this year was $8300 and included the grant from Driving Young America.
MEMBERSHIP:  Total League membership for the 2015-2016 season was 416 with 54 of these being new members.
SOCIAL CONNECTIONS:  One of the missions of the League is  to promote fellowship among those who love and support music in the Low Country.  The post concert receptions sponsored by the League were one of the ways that encourages these interactions between our members and our musicians.  The Spring Fling, held in May at Indigo Run, was the final social event for League members.  At this event the annual meeting was held and officers were installed.
Barbara Holmes and Char Long were welcomed to the Board.
Susan Parrish was recognized for her years of service as she retired from the Board.
Carol Gyllenhoff was named as Volunteer of the Year for 2015-16.
SUMMARY:  The accomplishments achieved this year were due to the tremendous support from members, the League Board, the orchestra staff, the HHSO Board of Directors.  Our thanks to each of these groups.
---
4TH ANNUAL KITCHENS OF NOTE TOUR — Sunday, September 25
Berkeley Hall Club    Noon to 4 pm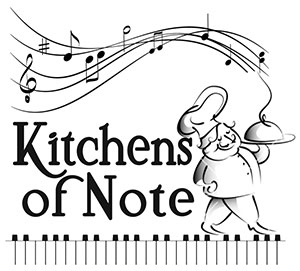 By the time you read this, the League's Kitchen Tour will be about to happen.  Eight months in the planning, this year's tour is in beautiful Berkeley Hall.  Six hospitable home owners will open their kitchens for viewing. Representing a range of styles from cutting edge contemporary to Tuscan traditional, you may well see your dream kitchen.  Pizza oven anyone?  We have one of those!!
Participating Restaurants:
Representing the best among the island's and Bluffton's fine restaurants, you will savor chef-prepared creations from Ombra Cucina Rustica, Lucky Rooster Kitchen & Bar, Old Fort Pub, The Bluffton Room, Pearl Kitchen, and Bar and R&D Wine Boutique.
Sponsors:
This year's generous sponsors are Stone Works, Billy Wood Appliance, Sun Trust Private Wealth Group, John Kilmer Interiors, Worth New York, Traditions of Hilton Head, and Le Cookery.
---
THE LEAGUE COOKBOOK FUNDRAISER – Toy Mergler, Chair, / Carol Gyllenhoff, Fund-Raising Chair
The committee worked countless hours developing the 20th Anniversary of the League cookbook, a symphony of savories and sweets from our own League members, entitled OVERTURES AND ENCORES. Over 59 members contributed recipes which are highlights of appetizers and sweets served at our Musicales.  In addition to the kick-off presentation at the Kitchen Tour of Note, the cookbooks will be available at the first Musicale and at the post-concert receptions.  This is an easy way to solve your gift-giving….even dieters can have fun perusing these delectable treats.  And, of course, each purchase benefits our beloved Orchestra!!  Books are $20 each.
The cookbooks will be available for sale at the Kitchen of Note tour at Berkeley Hall.
---
2016-2017 MUSICALE SEASON –  Mary Princing, Chair
Every year, our audience looks forward to the tried and true Musicale format that features talented musicians (both seasoned professionals and young aspiring artists) performing in some of the Low Country's most beautiful homes followed by wine and delicacies prepared and served by League volunteers. Mary Princing, Musicale chair, promises that this season's tried and true offerings are sure to delight even the most educated ear and discerning palate!
You should have received your Musicale invitation with detailed information on each of the 6 Musicale events, if not, call Marguerite Miletic at 843-689-2246.  Make your selections early and return your response promptly as these events are very popular and fill up quickly. In addition to attending the events, we hope you will consider sponsoring one of our talented musicians.  (See details with your invitation.)
---
Special Musicale Events this season: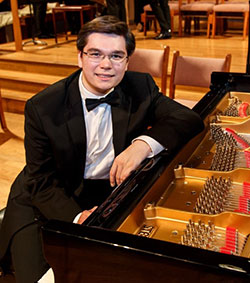 December 4, 2016 – Indigo Hall
We're pleased to announce that Tristan Teo of Canada, our 2016 2nd Prize Winner, will perform a recital at a special HHSO League Musicale on December 4 at Indigo Hall.  The musicale will benefit the HHIPC.  The Golf Club of Indigo Run providing mouth watering hors d'oeuvres and tasty desserts.
February 12, 2017  – Mona & Joe Huff Home
Musicale proudly presents Dixie Land Jazz featuring popular Jazz Corner pianist Martin Lesch and his trio performing in full stride in anticipation of Mardi Gras and its Second Line spirit of music.  As a special treat and in keeping with the season, the men of the League will be dishing up New Orleans style Jambalaya for all to enjoy.
Musicale Hosts:
Sincere thanks to those who have agree to open their homes to host our 2016-17 Musicales:  Heather and Bob Cherchella, Linda and Ray Moloney, Nina and Stu Rodman, Mona and Joe Huff,  and  Nancy and John Diamond.   And many thanks as well to our Kitchen Hostesses:  Marcia Collett, Jo Nuce and Marti Willits, Mary Murray, Mieke Smith and Suzanne Macdonald. 
Hats off to all of you!!
---
7th ANNUAL LEAGUE LUNCHEON/FASHION SHOW:  Wednesday, March 22, 2017  – Sonesta Resort
The popular annual Luncheon and Fashion Show of the League will be at an exciting new venue, the Sonesta Resort which offers guests the extra benefit of valet parking.   The luncheon and fashion show will feature League members modeling the latest fashions for spring and summer.  From sophisticated styling and elegant fabrics to casual and travel wear, the beautiful ensembles never fail to bring accolades from the attendees. Another new addition to this year's event will be a local celebrity master of ceremonies.
As in the past, there will be something for everyone at the silent auction featuring vacation getaways, jewelry and handbag boutique, golf rounds, local tours, custom baskets, store and gift certificates.
This event is always a sell out so plan early to invite your friends and neighbors and make up a table.  Watch your email for more details or contact Lois-Hoyt Berry at 843-341-3116 for additional information.
---
HILTON HEAD INTERNATIONAL PIANO COMPETITION – March 6 – 11, 2017
We're proud to introduce the new design for the 2017 competition publicity and program books.  The HHIPC will present its 22nd competitionin which Twenty promising young pianists, ages 13 to 17, from around the world, compete before an international panel of jurors in three rounds for $21,500 in cash prizes, a return engagement as soloist with the Hilton Head Symphony Orchestra, and other performance opportunities.
We're excited to report that the HHIPC internet homepage (www.hhipc.org) was updated this summer to include a page for volunteers.  The new page allows for volunteer registration, provides volunteer positions descriptions and volunteer requirements. Hopefully, this is first step to providing volunteer services via the HHIPC home page.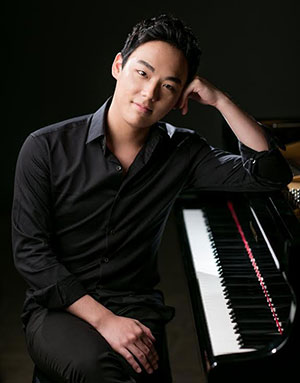 Our 2016 competition winner, ChangYong Shin, makes his Carnegie Hall debut at Weill Recital Hall on November 19 at 2:30 P.M. with that program that includes Bach, Beethoven and Prokofiev.  ChangYong is in the Masters Program at The Julliard School where he was awarded a full scholarship. For ticket and hotel information, please contact Mona Huff at the HHIPC Office (843.842.5880)
---
THE 2016-2017 LEAGUE BOARD
PRESIDENT:  Stan Cooke
VP, FUND RAISING:  Carol Gyllenhoff
VP, VOLUNTEERS:  Gail Kaess
TREASURER;  Fran Hubbell
SECRETARY:  Barbara Holmes
CONCERT RECEPTIONS:  Phyllis Patterson, Sue Forrest
CONCERTO COMPETITION;  Betsy Roll
COOKBOOK:  Toy Mergler
KITCHEN TOUR:  Lois Wilson. Julie Williams
INTERNATIONAL PIANO COMPETITION:  Bob Koenig
MUSICALES:  Mary Princing
NEWSLETTER;  Nancy Hudak
MEMBERSHIP:  Marguerite Miletic
FASHION SHOW:  Char Long, Lois Hoyt-Berry
---
MARK YOUR CALENDARS FOR THE YEAR
Kitchens of Note:
September 25
Musicales:
October 16, 2016
November 6, 2016
December 4, 2016
January 22, 2017
February 12, 2017
March 12, 2017
November 5, 6, 2016:    Concours d'Elegance]
March 22, 2017:    Luncheon/Fashion Show
---
POST-CONCERT RECEPTIONS HOSTED BY COMMUNITIES AGAIN:
October 10, 2016 Sea Pines –  Phyllis Patterson &Sue Forrest & hostesses in training
November 14, 2016 Moss Creek – Joan Dattlebaum
December 12, 2016 Palmetto Hall , Port Royal –  Barbara Wiles
January 16, 2017 Marti Willits, Betsy Roll, League members who belong to 1st Pres
January 30, 2017 League Board
February 20, 2017 Sea Pines  Phyllis Patterson
March 11, 2017 HHIPC  Ellen Taylor,  Sue Forrest
March 27, 2017 HHPlantation  Sue Macdonald, Mary Jane Major, Sue Forrest
April 24, 2017 To be announced
May 8, 2017  Symphony Board
---
We need YOUR help!!!
Please don't wait for us to call YOU.  We always need help and Gail Kaess, Chair of Volunteers, would welcome your call at 843-837-7991.   MEN:  we especially need volunteers to drive golf carts at the Concours.  If you are able to do this, call or email Stan Cooke at 843-298-4545 stan.cooke@roadrunner.com
Looking forward to another wonderful year.  Thank you all for helping us to keep the music playing!!